Queda mucho para el 12 de diciembre, fecha clave del nacimiento de FRANK SINATRA ,pero nos vamos a preparar a una intensa y poderosa lluvia de acontecimiento con LA VOZ.
Frank Sinatra: recomendaciones
Para empezar, este ULTIMATE SINATRA, con 100 canciones imprescindibles.
Es increible , pero  lo largo de siete décadas de carrera, Frank Sinatra realizó más de 1400 grabaciones y fue galardonado con 31 discos de oro, 9 de platino, 3 doble platino y un triple platino. Impresionante.
Así que el 21 de abril se editará en todo el mundo esta colección de canciones intemporales en Cd con 25 tracks, 26 tracks digital, 2 LPs de 180 gramos con 24 tracks y ediciones deluxe en 4CDs y digital con 101 canciones.
Ultimate Sinatra presenta las canciones clave de su carrera en Columbia, Capitol y Reprise, juntas por primera vez. Todas la ediciones tanto en CD como en Digital tienen grabaciones inéditas y además la Caja de 4 CDS y los 2 LPs tendrán disponible bonus tracks a través de descarga digital.
El Cd Standard de Ultimate Sinatra contendrá 25 canciones imprescindibles en su carrera estelar.Sinatra. Empezando por "All Or Nothing At All" y cerrando con la version inédita alternativa de "Just In Time," la selección prosigue con los destacados "I'll Never Smile Again" (1940), "I've Got The World On A String" (1953), "In The Wee Small Hours Of The Morning" (1955), "I've Got You Under My Skin" (1956), "Come Fly With Me" (1957), "The Way You Look Tonight" (1964), "Fly Me To The Moon (In Other Words)" (1964), "Strangers In The Night" (1966), "My Way" (1968) y "Theme From New York, New York" (1979),entre otros. La versión standard digital añade otra pista más hasta las 26 con el bullicioso "Chicago".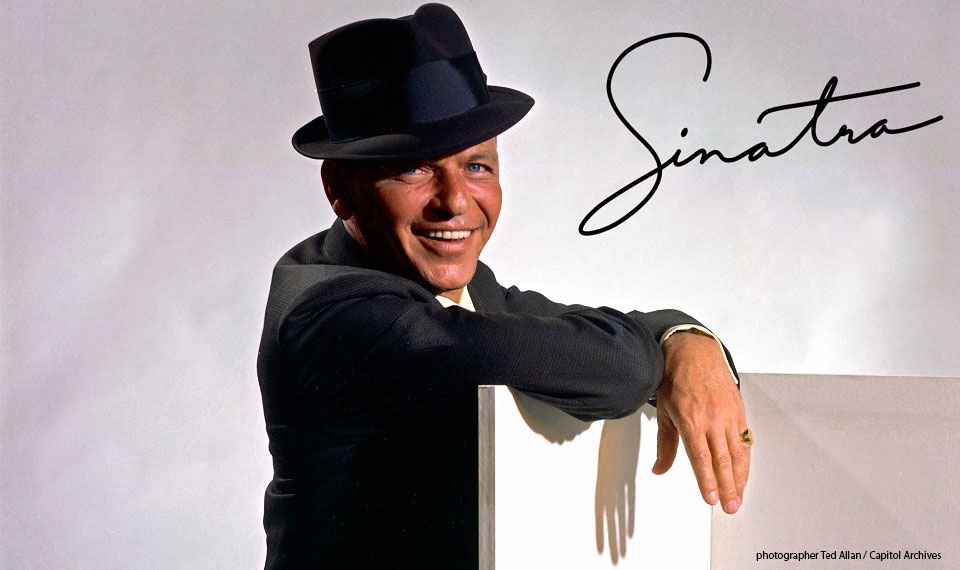 ESTOS SON LOS DETALLES:
Frank Sinatra: Ultimate Sinatra [CD, digital]
1.     All Or Nothing At All
2.     I'll Never Smile Again
3.     Saturday Night (Is The Loneliest Night Of The Week)
4.     Nancy (With The Laughing Face)
5.     I've Got The World On A String
6.     Young At Heart
7.     In The Wee Small Hours Of The Morning
8.     Learnin' The Blues
9.     Love And Marriage
10.   I've Got You Under My Skin
11.   Witchcraft
12.   All The Way
13.   Come Fly With Me
14.   One For My Baby (And One More For The Road)
15.   The Way You Look Tonight
16.   My Kind Of Town
17.   Fly Me To The Moon (In Other Words)
18.   It Was A Very Good Year
19.   Strangers In The Night
20.   Summer Wind
21.   That's Life
22.   My Way
23.   Theme From New York, New York
24.   Put Your Dreams Away
25.   Just In Time (Alternate Version) – previously unreleased
Digital-only bonus track:
26. Chicago
Frank Sinatra: Ultimate Sinatra [2LP vinyl]
Side A
1. All Or Nothing At All
2. I'll Never Smile Again
3. Saturday Night (Is The Loneliest Night Of The Week)
4. Nancy (With The Laughing Face)
5. I've Got The World On A String
6. Young At Heart
7. In The Wee Small Hours Of The Morning
Side B
1. Learnin' The Blues
2. Love And Marriage
3. I've Got You Under My Skin
4. Witchcraft
5. All The Way
Side C
1. Come Fly With Me
2. One For My Baby (And One More For The Road)
3. The Way You Look Tonight
4. My Kind Of Town
5. Fly Me To The Moon (In Other Words)
6. It Was A Very Good Year
Side D
1. Strangers In The Night
2. Summer Wind
3. That's Life
4. My Way
5. Theme From New York, New York
6. Put Your Dreams Away
Bonus track download: (via included voucher)
1. Just In Time (Alternate Version) – previously unreleased
Frank Sinatra: Ultimate Sinatra [4CD, digital Deluxe Edition]
Disc 1
1. All Or Nothing At All
2. I'll Never Smile Again
3. Street of Dreams
4. You'll Never Know
5. If You Are But A Dream
6. Saturday Night (Is The Loneliest Night Of The Week)
7. Nancy (With The Laughing Face)
8. Oh! What It Seemed To Be
9. Five Minutes More
10. Time After Time
11. Night And Day
12. The Song Is You
13. I'm A Fool To Want You
14. The Birth Of The Blues
15. Why Try To Change Me Now
16. I've Got The World On A String
17. Don't Worry 'Bout Me
18. My Funny Valentine
19. They Can't Take That Away From Me
20. I Get A Kick Out Of You
21. Young At Heart
22. Last Night When We Were Young
23. Three Coins In The Fountain
24. Just One Of Those Things
25. All Of Me
26. Someone To Watch Over Me
27. I Get Along Without You Very Well
Disc 2
1. This Love Of Mine
2. In The Wee Small Hours Of The Morning
3. Learnin' The Blues
4. Love And Marriage
5. (Love Is) The Tender Trap
6. Love Is Here To Stay
7. You Make Me Feel So Young
8. Memories Of You
9. I've Got You Under My Skin
10. Too Marvelous For Words
11. (How Little It Matters) How Little We Know
12. I Couldn't Sleep A Wink Last Night
13. I Wish I Were In Love Again
14. The Lady Is A Tramp
15. From This Moment On
16. Laura
17. Where Are You?
18. Witchcraft
19. Bewitched
20. All The Way
21. Moonlight In Vermont
22. Come Fly With Me
23. Put Your Dreams Away
24. Angel Eyes
25. Guess I'll Hang My Tears Out To Dry
Disc 3
1. Only The Lonely
2. One For My Baby (And One More For The Road)
3. Something's Gotta Give
4. Come Dance With Me
5. Here's That Rainy Day
6. A Cottage For Sale
7. High Hopes
8. The Nearness Of You
9. I've Got A Crush On You
10. Nice 'N' Easy
11. When The World Was Young
12. In The Still Of The Night
13. The Second Time Around
14. Without A Song
15. Loved Walked In
16. Stardust
17. Come Rain Or Come Shine
18. The Girl Next Door
19. At Long Last Love
20. The Very Thought Of You
21. Pennies From Heaven
22. Ol' Man River
23. I Have Dreamed
24. Luck Be A Lady
Disc 4
1. The Way You Look Tonight
2. My Kind Of Town
3. The Best Is Yet To Come
4. Fly Me To The Moon (In Other Words)
5. Softly, As I Leave You
6. It Was A Very Good Year
7. September Of My Years
8. Moonlight Serenade
9. Strangers In The Night
10. Summer Wind
11. That's Life
12. I Concentrate On You
13. The Girl From Ipanema
14. Drinking Again
15. Somethin' Stupid (with Nancy Sinatra)
16. The World We Knew (Over And Over)
17. Cycles
18. My Way
19. Wave
20. All My Tomorrows
21. Forget To Remember
22. It Had To Be You
23. All Of You
24. Theme From New York, New York
25. The Surrey With The Fringe On Top (Rehearsal) – previously unreleased
4CD Deluxe – Bonus Download EP: (via included voucher)
1. What is This Thing Called Love? (Alternate Version) – previously unreleased
2. Just In Time (Alternate Version) – previously unreleased
3. Guess I'll Hang My Tears Out To Dry (Alternate Version) – previously unreleased
4. That's Life (Alternate Orchestral Version) – previously unreleased