Ayer se celebró la gala de los premios NME with Austin Texas, en el O2 Academy Brixton de Londres con Taylor Swift,  Coldplay y Wolf Alice como grandes ganadores.
Por tercer año consecutivo (hay que ver que poca imaginación y recursos tienen tanto los Grammy como los NME) los presentó el DJ de Radio 1, Huw Stephens.
Por sorpresa The Maccabees se coronaron como "Mejor banda británica" dejando con un palmo de narices a Foals y Libertines, y Run The Jewels consiguieron el premio a la "mejor banda internacional".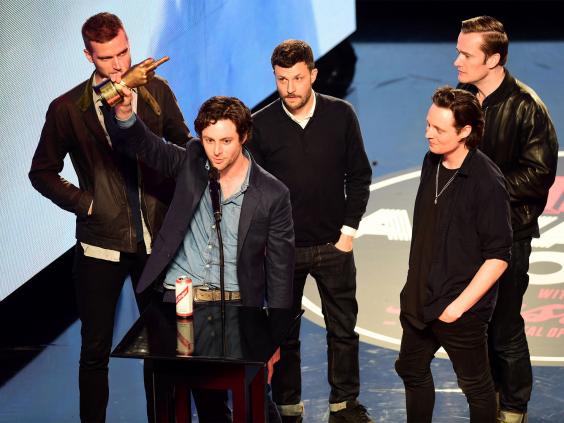 Sin embargo, 'What Went Down' de Foals fue elegido "mejor disco del año", y Libertines se llevaron un par de premios más modestos: "momento musical del año" (su actuación secreta en Glastonbury) y "mejor comunidad de fans".
Pero, quizá los ganadores de la noche – es complicado porque los premios acabaron muy repartidos- fueron Wolf Alice, elegidos como mejor grupo en directo, y "Giant Peach", mejor canción del año.
Taylor Swift y Charli XCX, fueron consideradas mejores artistas femeninas, internacional y británica, respectivamente.
Rat Boy fue considerado el mejor artista nuevo, y fueron homenajeados los veteranos Yoko Ono , que se llevó el "Inspiration Award" un día antes de su 83 cumpleaños; David Bowie, cuyo "Five Years" fue escogido como "mejor reedición del año", y Coldplay recibieron el importante "Goldlike Genius" y cerraron la gala con un set de 6 canciones a tope de color y confeti. Por cierto, que en otro momento de la gala tuvieron que tragar con que el cantante de Bring Me The Horizon se les subiera encima de la mesa con riesgo de echarla abajo.
Donald Trump fue con todo merecimiento el "villano del año", y vayan ustedes a saber por qué (quizá por aquello de la pierna rota y tocar sentado en el "trono del rock") Dave Grohl, héroe del año.
Además de Coldplay, tocaron en la ceremonia de los NME, Foals, Bring Me The Horizon, The Maccabees y Rat Boy.
NME Awards 2016 with Austin, Texas (ganadores en negrita):
Best British Band
The Libertines
Foals
Wolf Alice
The 1975
Catfish and the Bottlemen
The Maccabees
Best International Band supported by Austin, Texas
Tame Impala
Foo Fighters
The Strokes
The Killers
Alabama Shakes
Run The Jewels
Best New Artist
Rat Boy
Hinds
Halsey
Yak
Lapsley
Formation
Best British Solo Artist supported by Pilot Pens
Adele
Noel Gallagher
Ed Sheeran
Charli XCX
Florence Welch
Skepta
Best International Solo Artist
Kendrick Lamar
Lana Del Rey
Taylor Swift
Courtney Barnett
Kanye West
Grimes
Best Live Band
The Maccabees
The Libertines
Foals
Catfish and the Bottlemen
Royal Blood
Wolf Alice
Best Album supported by HMV
Wolf Alice – 'My Love Is Cool'
The Maccabees – 'Marks to Prove it'
Kendrick Lamar – 'To Pimp a Butterfly'
Tame Impala – 'Currents'
Grimes – 'Art Angels'
Foals – 'What Went Down'
Best Track
Coldplay – 'Adventure of a Lifetime'
The Libertines – 'Gunga Din'
The Weeknd – 'I Can't Feel My Face'
Skepta – 'Shut Down'
Wolf Alice – 'Giant Peach'
Foals – 'What Went Down'
Best TV Show
The Walking Dead
Game of Thrones
American Horror Story
Peep Show
This is England '90
Gogglebox
Best Film
Ex Machina
Spectre
Mad Max: Fury Road
Whiplash
Kill Your Friends
Beasts of No Nation
Best Music Film
Amy
Montage of Heck
Straight Outta Compton
What Happened, Miss Simone
The Reflektor Tapes
Blur: New World Towers
Best Music Video
Rihanna – 'Bitch Better Have My Money'
The Libertines – 'Heart Of The Matter'
Wolf Alice – 'You're a Germ'
Blur – 'Ong Ong'
Slaves – 'Cheer Up London'
Tame Impala – 'The Less I Know The Better'
Best Actor
Tom Hardy
Eddie Redmayne
Nicholas Hoult
Stephen Graham
Idris Elba
Daniel Radcliffe
Best Actress
Vicky McClure
Jennifer Lawrence
Emilia Clarke
Gemma Chan
Amy Schumer
Saoirse Ronan
Best Reissue
David Bowie – 'Five Years'
A Tribe Called Quest – 'People's Instinctive Travels And the Paths Of Rhythm'
Velvet Underground – 'Loaded'
Rolling Stones – 'Sticky Fingers'
Tori Amos – 'Under The Pink'
Faith No More – 'Angel Dust'
Best Book
I'll Never Write My Memoirs' Grace Jones
'M Train' Patti Smith
'Unfaithful Music & Disappearing Ink' Elvis Costello
'Hunger Makes Me A Modern Girl' Carrie Brownstein
'Lucky' Professor Green
'Over The Top And Back' Tom Jones
Best Festival
Glastonbury
Reading & Leeds
V Festival
T in the Park
Bestival
Isle of Wight
Best Small Festival
Swn
Festival Number 6
Green Man
End Of The Road
Liverpool Sound City
Kendall Calling
Music Moment of the Year
The return of Adele
The Libertines secret Glastonbury set
Dave Grohl breaks leg and carries on
Florence headlines Glastonbury
Kanye at The Brits
One Direction 'split'
Best Fan Community
Hurts
The Libertines
Muse
Catfish and the Bottleman
The 1975
Wolf Alice
Worst Band
5 Seconds of Summer
One Direction
Little Mix
Sleaford Mods
U2
Nickelback
Villain of the Year
David Cameron
Chris Moyles
Kanye West
Donald Trump
George Osbourne
Simon Cowell
Hero of the Year
Adele
Dave Grohl
Jeremy Corbyn
Florence Welch
Kanye West
Taylor Swift
Vlogger of the Year
KSI
Vikkstar123
Charlie McDonnell
Joe Weller
Danisnotonfire
Savannah Brown