Mañana veremos el regreso del siempre interesante  Record Store Day, con lanzamientos exclusivos de Green Day , IDLES , Fleetwood Mac , Queen , Iggy Pop , Prince , David Bowie , Elastica , Jeff Buckley y muchos más para 2019.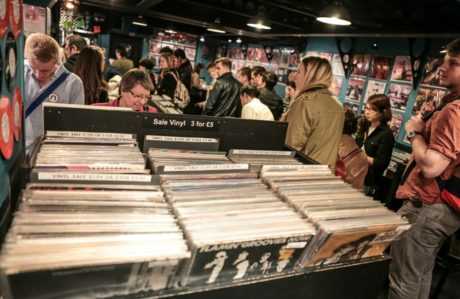 Entre la serie de relanzamientos, ediciones ampliadas, nuevos lanzamientos y vinilos especiales de colores y formas este año se encuentran el legendario conjunto de Green Day de Woodstock 1994, grabaciones alternativas del álbum homónimo de Fleetwood Mac en 1975, "BBC Sessions" de Elastica y la primera vez, una recopilación de Steve Lamacq de 'Lost Alternatives' de los años 90, un conjunto de grabaciones inéditas de Jeff Buckley para 'In Transition', e IDLES 'MEAT' y 'META' EP en vinilo por primera vez. .
También habrá pistas adicionales de lujo que incluyen b-sides, rarezas, mezclas alternativas y demostraciones del 'Blue Album' de Weezer disponible en vinilo de colores con 'Dusty Gems And Raw Nuggets', un conjunto de pistas acústicas re- imaginadas de Mumford & Sons " Delta ', una nueva recopilación de U2 de recientes presentaciones en vivo y remixes, un triple lanzamiento de vinilo para celebrar el vigésimo aniversario de' Head Music 'de Suede, el álbum en vivo de' The Black Parade Is Dead 'de My Chemical Romance por primera vez, y un lanzamiento limitado de mezclas crudas del clásico 'Imagine' de John Lennon.
Iggy Pop celebra su cumpleaños en el Record Store Day de este año:
"En mi vida, la música ha sido un bálsamo para la soledad. Fue en la pequeña y barata tienda de discos donde encontré la forma de conectarme con otras personas. Tenía 18 años. Era un teatro, un vistazo al mundo del comercio y una biblioteca cultural; y mis experiencias como empleado adolescente estaban llenas de humor y curiosamente cálidas.El enfoque moderno, que está bien, todavía necesita alimento de estos lanzamientos. A todas partes de la tierra que voy, hay fans en una tienda de discos. Es un buen lugar: luz diurna vs. tenue luz, ojos claros vs. drogadicto, y social vs. salvaje. Así que por eso me gustan.
Vea la lista completa de lanzamientos .Larga, muy larga:
| | | |
| --- | --- | --- |
| Artist | Title | Format |
| 13th Floor Elevators | Psychedelic Sounds Of | LP Picture Disc |
| 808 State | Four States of 808 | 4×12″ box set |
| A Man Called Adam | Farmarama | 12″ |
| A.R. Kane | New Clear Child | Single vinyl LP |
| Ace Frehley | Spaceman (Picture Disc) | 12PD |
| Ace of Base | The Sign | 7′ Picture Disc |
| Acid Mothers Temple | Does The Cosmic Shepherd Dream Of Electric Tapirs? | Double LP |
| Adam French | The Back Foot And Rapture | 7″ |
| A-HA | Hunting High And Low / The Early Alternate Mixes | 1LP, Black Vinyl |
| Aidan Moffat and RM Hubbert | What The Night Bestows US | LP |
| Air | Surfing On A Rocket | 12″ Picture Disc |
| | | |
| --- | --- | --- |
| Airto | Natural Feelings | 12″ LP |
| Al Green | The Hi Records Singles Box Set | 7″ Box Set |
| Alarm, The | Live '85 | 2LP |
| Albert Washington | Sad And Lonely | LP |
| Alice Clark | s/t | Deluxe Gatefold LP edition augmented with a 20 page booklet |
| ALPHA & OMEGA | DUBPLATE SELECTION VOL 1 | LP |
| ALPHA & OMEGA | DUBPLATE SELECTION VOL 2 | LP |
| Anderson .Paak | Bubblin' | 7″ |
| Andrea True Connection | More, More, More | 12″ |
| Angel Pavement | Socialising With Angel Pavement | LP & 7″ |
| Antoine Dobson featuring the Gregory Brothers (Schmoyo) | Bed Intruder & Various Other YouTube Hits | 7″ |
| Apartments, The | Live At L'ubu | LPX2 |
| APRE | 2.45 | 12″ black vinyl |
| Aretha Franklin | The Atlantic Singles Collection 1967 | 5 x 7″ Singles Box |
| Art Brut X We Are Scientists | WASABI | 12″ LP |
| Art of Noise | Daft As A Brush! | 4×12″ box set |
| Associates | Club Country | 12″ – coloured vinyl |
| Atjazz | Tears | 12″ |
| Average White Band | Pick Up The Pieces / Get it up for Love | 12″ |
| Azymuth | Demos 1973-75: Castelo (Version 1) / Juntos Mais Uma Vez | 7″ |
| Bad Religion | My Sanity/Chaos From Within | 7″ |
| Badfinger | So Fine–The Warner Bros. Rarities (Limited 2-LP Red Vinyl Edition) | LP2 |
| Bananarama | Drama | Double LP |
| Bananarama | Viva | Double LP |
| Bananarama | Bananarama Remixed: Vol. 1 | 12″ |
| Bang Bang Romeo | Cemetry / Creep | 7″ vinyl |
| Bardo Pond | Big Laughing Jym | LP |
| Bark Psychosis | Independency (Singles Collection) | Double LP |
| Barst | Re:Cycles | |
| Basement | Be Here Now | 7″ Coloured Vinyl |
| Basil Kirchin | Worlds Within Worlds | LP |
| Bastille | Other People's Heartache | 12" |
| | | |
| --- | --- | --- |
| Batmobile | The 1987 Demo's | 7″ |
| Beartooth | B-Sides | 7″ |
| Beloved, The | A. Your Love Takes Me Higher (Evil Mix) / Awoke | 12″ |
| Bernard 'Pretty' Purdie | Soul Is … Pretty Purdie | LP |
| Beth Hart | Front And Center – Live From New York | 12″ 2LP |
| Bevis Frond, The | Vavona Burr | 2LP |
| Bevis Frond, The | North Circular | 3LP |
| Big Stick | Drag Racing | 7″ |
| Bill Evans | Evans in England: Live at Ronnie Scott's | 2LP |
| Billy F Gibbons | The Big Bad Blues | LP |
| Billy Joel | Live At Carnegie Hall 1977 | x2 LP Vinyl |
| Bingo Hand Job | Live At The Borderline 1991 | 2LP |
| Black Eyed Dogs | Revelator | 12″ Vinyl LP |
| Blancmange | Living On The Ceiling | 12″ |
| Blind Willie McTell | Statesboro Blues/Three Women Blues | 10″ |
| Blossoms | Cool Like You | LP Set |
| Bob Dorough | Multiplication Rock (Original Soundtrack Recording) | LP |
| Bob Dylan | Blood On The Tracks – Original New York Test Pressing | LP Vinyl |
| Booker T & The MGs | Green Onions Plus 3 | 10″ |
| Bop | Patterns I Have Known And Loved | 12″ EP |
| Boy George & Culture Club | Runaway Train (ft. Gladys Knight) | 10″ Shaped disc |
| | | |
| --- | --- | --- |
| Breakbot | Another You EP | 12″ |
| Brett Smiley | Sunset Towers | 12″ |
| Brian May | New Horizons | 12″ |
| Brigitte Bardot | B.B. La Legende | LP |
| Broken Social Scene | Let's Try The After | LP Album |
| Bronski Beat | Smalltown Boy | 12″ Picture Disc |
| Brother Theodore | Brother Theodore – Fate Conspires With Destiny To Do Me Dirt (1959-1972) | LP + 7″ |
| Candy Bowman | I Wanna Feel Your Love / Since I Found You (Love Is Better Than Ever) | 12″ |
| Carina Round | Things You Should Know | LP Picture Disc |
| Celeste | Celeste | 10″ black vinyl |
| Chapterhouse | Whirlpool – The Original Recordings | Single vinyl LP |
| Charlatans, The | Us And Us Only | 1LP coloured vinyl |
| Charlatans, The | Everything Changed | Box |
| Charlie Parker | Charlie Parker With Strings: The Alternate Takes | 1LP Colour |
| Chas & Dave | Margate | Picture Disc |
| Chase & Status | No More Idols | 2LP Coloured Vinyl |
| Cheap Trick | The Epic Archive Vol. 3 (1984-1992) (Limited 2-LP "Flame Red" Vinyl Edition) | LP2 |
| Chet Baker | Cold Trumpet | 10″ |
| Chic | Le Freak (Oliver Helden Remix) | 12″ single |
| Chuck Mosley | Joe Haze Session #2 | 7″ |
| Cissy Houston | Cissy Houston | 12″ |
| Clang Group, The | We Do Wie Du | 7″ |
| Cloud One | Spaced Out: The Very Best of Cloud One | 2LP |
| Cornell Campbell | Greenwich Farm Sessions | LP |
| Courtneers, The | Falcon | 1LP |
| Courtney Barnett | Everybody Here Hates You | 12″ |
| Craig Mac / The Notorious BIG | Big Mack | COMBINED 1LP + TAPE CASSETTE package |
| Crispy Ambulance | The Plateau Phase | 2LP |
| CSNY | 4 Way Street (Expanded Edition) | 3LP. Black Vinyl |
| Culture Shock | Bunker / There For You | 12″ Picture Disc |
| Curse Of Lono | 4am And Counting – Live And Stripped-Back At Toe Rag Studios | 12″ Red Trnaslucent LP 180g |
| Czarface | Double Dose of Danger | LP + Comic Book |
| Daniel Johnston | Hi How Are You / Yip Jump Music | LP Boxset |
| Daniel Knox | Die Hard / Die Harder | 7″ |
| Daniel Pemberton | Black Mirror: USS Callister OST | LP |
| Darrell Banks | Open The Door To Your Heart (Vocal & Instrumental) | 7″ |
| David Amram | The Manchurian Candidate | LP |
| David Bowie | The World Of David Bowie | 1LP |
| David Bowie | Pin Ups | 1LP Picture Disc |
| David Bowie / Marlene Dietrich | Revolutionary Song / Just A Gigolo | 7″ |
| | | |
| --- | --- | --- |
| David J | V for Vendetta | LP |
| Davy DMX | One For The Treble (Fresh) | 7″ |
| De Staat | Bubbles B-Sides | 12″ Single |
| Deadly Avenger | Your God Is Too Small | LP |
| Declan McKenna | Regurgitated | 10″ Pic Disc |
| Def Leppard | The Story So Far | 2LP |
| Delines, The | Colfax | LP Orange |
| Delta Sleep | Ghost City Rarities | 12″ |
| Depreciation Guild, The | In Her Gentle Jaws | LP |
| Desmond Briscoe, The BBC Radiophonic Workshop | The Stone Tape | 10″ |
| Desmond Dekker | Pretty Africa | LP – pale yellow vinyl |
| Dexter Wansel | Life On Mars (Paul Simpson Funkin' On Mars Mix) | 12″ |
| Dexys Midnight Runners | At The BBC 1982 | 2LP Green vinyl |
| Dillinger | CB 200 | LP |
| Dio | The Last In Line Live | 12″ die-cut picture disc |
| | | |
| --- | --- | --- |
| Distiller Artists including Anteros, Bloody Knees, Cassia, Danny Goffey, The Ninth Wave and The Ramona Flowers | The Vinyl Revival – The Album | LP/ 12″ and DVD |
| DJ Pierre presents / Various Artists | ACID 88 volume 3 | 2LP |
| Doctor Who | Destiny of the Daleks | 2LP |
| Doctor Who | Galaxy 4 | 2LP |
| Doors, The | London Fog | 10″ version / 180g, Numbered |
| Down To The Bone | Brooklyn Heights (The Kaidi Tatham Reinterpretation)/Concrete Jungle/Staten Island Groove/Déjà vu | 12″ |
| Dr Dog | Live 2 | 12″ |
| Dr John | Recorded Live In Tokyo, Japan | 2LP |
| Dragonfly | Dragonfly | 12″ |
| Dream Syndicate,The | The Days of Wine & Roses | 2LP + 7″ |
| Drew Mulholland | 3 Antenna in A Quarry | 10″ |
| Drinking Boys and Girls Choir | Keep Drinking | LP 12" |
| Duran Duran | As The Lights Go Down (Live '84) | 2LP Coloured Pink & Blue |
| Durutti Column, The | Obey The Time | 2LP |
| Ed O.G. & Da Bulldogs | Life Of A Kid In The Ghetto | LP |
| Ed Wizard & Disco Double Dee | Funk Wit Me (Nebraska remix) | 12″ |
| Edith Sitwell/William Walton | Façade | 10″ |
| Editors / Blanck Mass | The Blanck Mass Sessions | LP |
| Edy Star | Sweet Edy | LP |
| Elastica | BBC Sessions | LP |
| | | |
| --- | --- | --- |
| Elton John | Live From Moscow | 2LP |
| Elvis Presley | Live At The International Hotel, Las Vegas, NV August 23, 1969 | x2 LP Vinyl |
| Emerson | If You Need Me, Call Me | LP |
| Emerson, Lake & Palmer | Live at Pocono Raceway, USA, 1972 | Gatefold 2LP, brown and yellow vinyl |
| Emmylou Harris | Studio Albums: 1980-1983 | 5LP + 7″ Box Set |
| Eric Clapton | One More Car, One More Rider | 3LP Clear Vinyl 140gm |
| Erykah Badu & Jame Poyser | Tempted | 7″ |
| Ethik | Music For Stock Exchange | 2xLP |
| Europe | Walk The Earth Limited Edition 7" Single | 7" Colour Vinyl housed in a collectible merch package |
| Factory, The | Time Machine | 7″ |
| Fall, The | Imperial Wax Solvent | LP |
| Fall, The | Astoria 1998 | LP |
| Fall, The | Frankfurt 1993 | DLP |
| Fall, The | New Orleans 1981 | DLP |
| Fall, The | Nijmegan 1999 | LP |
| Fall, The | Kings Lynn 1996 | DLP |
| Fall, The | Unutterable – Testa Rossa Monitor Mixes | LP |
| Fall, The | Medicine For The Masses – The Rough Trade Singles | 4 x 7″ box set |
| Fallen Angels (Knox + Hanoi Rocks) | Fallen Angels | 2xLP |
| Fanfarlo | Reservoir Expanded Edition | 2LP, 180g solid white and black mixed vinyl, gatefold tip-on jacket |
| Fatboy Slim | Right Here Right Now | 12″ yellow vinyl, die-cut sleeve |
| Fay Hallam | Propeller | LP |
| Fela Kuti and Roy Ayers | Music of Many Colours | LP |
| Ferris & Sylvester | Sickness / Burning River | 12″ Flame Red vinyl |
| First Choice | Newsy Neighbours (Danny Krivit mixes) | 12″ |
| First Name, Last Name or Artist, The.            Do not write in capitals. | Title of Song/ Album | LP/ 7″/ 12″/ CD |
| Flaming Lips, The | King's Mouth | Gold LP |
| Fleetwood Mac | Fleetwood Mac Alternate | 180g Black Vinyl LP |
| | | |
| --- | --- | --- |
| Florida Georgia Line | Can't Say I Ain't Country | 2LP Black |
| Fox Millions Duo | Biting Through | LP |
| Frances Mckee | Sunny Moon | LP |
| Frank Black | Frank Black | LP |
| Frank Black | Teenager Of The Year | 2LP |
| Freddie McKay | Another Weekend | 12″ |
| Frits Wentink | Frogs, Toads and Newts | 12″ |
| Funky Monkey | The Forgotten World of Treecastle | 12" |
| Future Sound of London, The | Yage 2019 | LP |
| Fuzzy Haskins | A Whole Nother Thang | LP |
| Garfield Fleming | Don't Send Me Away / You Got Dat Right | 12″ |
| Gaz Coombes | Live | LP Album |
| Generation X | Your Generation (Winstanley Mix) | 7″ |
| Ginger Johnson & and His African Messengers | Witchdoctor | Vinyl 7″ |
| Ginger Wildheart | Maggie | 12″ |
| Glass Animals | Zaba Stripped | LP Album |
| Gob Iron | Waterloo/ True Transmission to Your Heart | 7″ |
| Gorillaz | The Fall | 1LP |
| Graham Parker | Squeezing Out Sparks – 40th Anniversary Solo Acoustic | Blue LP |
| Grandmaster Flash & The Furious Five | The Message | 2LP with remixes |
| Grateful Dead | The Warfield, San Francisco, CA 10/9/80 & 10/10/80 | 2 LPs (180g) Black Vinyl |
| Grateful Dead | The Warfield, San Francisco, CA 10/9/80 & 10/10/80 | 2CD |
| Green Day | Woodstock 1994 | 1LP |
| | | |
| --- | --- | --- |
| Green River | Olympia, Tropicana, 1984 | LP |
| Grodeck Whipperjenny | The Grodeck Whipperjenny | LP |
| Groundhogs, The | Thank Christ for the Bomb (Major Edition) | 2LP |
| Halestorm | Buzz/Chemicals | 7″ Green Vinyl |
| Half Japanese | Charmed Life | LP |
| Hank Williams | The Complete Health & Happiness Shows | 3LP |
| Harvey Mason | Groovin' You / Modaji / Till You Take My Love | 12″ |
| Hawkwind | The 1999 Party – Live At The Chicago Auditorium 21st March, 1974 | 2LP |
| Heaven 17 | Bigger Than America | LP |
| Hempolics, The | Fu Man Chu / Wild Is The Wind | 12″ |
| Heptones | Swing Low | LP & 12″ |
| Herbie Hancock | Dedication | LP |
| High On Fire | Bat Salad (RSD 2019) | LP |
| Hillbilly Moon Explosion, The | All Grown Up | LP |
| Hipnotic | Are You Lonely? | 12″ |
| Hit Parade, The | Joey's Girl / I'm Recovering From You | 7″ |
| Honeyblood | The Third Degree / She's A Nightmare | 12″ |
| Hot 8 Brass Band | Working Together E.P. | 12″ |
| Howe Gelb | Dreaded Brown Recluse | LP |
| Howell, Peter  & Ferdinando, John | Ithaca, Agincourt And Other Psych-Folk Fairy Tales | LPX2+CD |
| Human Switchboard | Human Switchboard | 7″ |
| Humble Pie | Official Bootleg Vol 1 | Double LP |
| Ian Brown | From Chaos To Harmony / Black Roses | 2 x 7″ |
| Ian Gillan | Mr Universe – 40th Anniversary | LP |
| iDKHOW | 1981 Extended Play EP | 12″ |
| IDLES | MEAT EP / META EP | 12″ |
| | | |
| --- | --- | --- |
| Iggy Pop | The Villagers / Pain & Suffering | 7″Single (coloured vinyl) |
| Irma Thomas | In Between Tears | 12″ |
| Isley Brothers, The | Footsteps in the Dark, Pts. 1 & 2 / Between the Sheets | 7″ |
| Jacobites- Nikki Sudden , Dave Kusworth | Robespierre's Velvet Basement | 2xLP |
| Jacques Brel | Amsterdam | 12″ |
| Jah Wobble | The Electro Dub EP | 12″ Purple Vinyl |
| James Brown | Sho Is Funky Down Here | LP |
| Janis Joplin | Live At Woodstock Sunday August 17, 1969 | LP Vinyl |
| Japan | Life In Tokyo / Quiet Life | 10″ coloured vinyl |
| Jaws of Love | Michael & Me / Giving Up Is Not the Easiest Way Out | 7″ |
| Jazz Butcher, The | A Scandal in Bohemia | LP |
| Jazz Butcher, The | Sex and Travel | LP |
| Jazz Butcher, The | Distressed Gentlefolk | LP |
| Jazzanova | Heatwave (Jazzanova Remix) | 12″ |
| Jean-Claude Vannier | La Bête Noire | 7″ |
| Jeff Buckley | In Transition | LP Vinyl |
| | | |
| --- | --- | --- |
| Jeff Tweedy | Warmer | 12″ |
| Jeff Wayne | Pianos, Strings &some Other Things | 12″ Vinyl Single |
| Jefferson Starship | Gold | Gold 1LP + 7″ |
| Jessie Buckley "Rose-Lynn Harlan" | Wild Roses and the Jaggynettles | 10″ |
| Jessie Ware | Adore You | 10″ |
| Jethro Tull | North Sea Oil | 10′ mini LP |
| JJ Cale | Stay Around EP | 7″ |
| Joan Shelley | Rivers and Vessels | LP |
| Joe Strummer | The Rockfield Studio Tracks | 12″ |
| John Grant | Remixes Are Also Magic | 12″ |
| John Hiatt & Lilly Hiatt | You Must Go / All Kinds Of People | 7″ |
| John Lennon | Imagine (Raw Studio Mixes) | 1LP |
| | | |
| --- | --- | --- |
| John McLaughlin, Dave Holland, John Surman, Stu Martin, Karl Berger | Where Fortune Smiles | LP – Picture Disc |
| John Otway & Wild Willy Barrett | John Otway & Wild Willy Barrett | 2LP |
| Johnny Osbourne | Nightfall | Single colored vinyl in re-production of original art. |
| Johnny Thunders | Que Sera Sera (Resurrected) | 2xLP |
| Josephine Foster | Hazel Eyes I Will Lead You | LP |
| Juice People Unlimited | Disco Godfather (Original 1979 Motion Picture Soundtrack) | LP |
| Julien Baker | Red Door | 7″ |
| Kaiser Chiefs | Oh My God | 7″ |
| KASSAV | Love and Ka Dance | LP |
| Keane | Disconnected / Sovereign Light Café | Green 7″ Single |
| Kenny Wayne Shepherd | Ledbetter Heights | 2xLP |
| Kings Of House NYC feat. Julie McKnight | Still Here | 12″ |
| Kip Moore | Room To Spare: The Acoustic Sessions | LP |
| Kirk Franklin | Looking For You | 7″ |
| Kooks, The | Live At The Moth Club | LP |
| Kristin Hersh | Crooked | LP |
| KT Tunstall | Extra Wax | 7" |
| KUNGS | This Girl / I Feel So Bad | 7″ |
| Laurence R. Harvey With Score By Chris Bozzone | Thomas De Quincey, Suspiria De Profundis :  Levana And Our Ladies Of Sorrow | 7″ |
| League Of Gentlemen, The | Live Again! – Pop Up | 2LP |
| LeAnn Rimes | Live From Gruene Hall | 12″ |
| Lee 'Scratch' Perry | Lee 'Scratch' Perry and Friends – Back to the Ark | 12″ Box Set of x4 12″ records. |
| Lee Scratch Perry | Big Ben Rock (Woodie Taylor Remix) | 7″ |
| Leisure Society featuring Brian Eno, The | I'll Pay For It Now | 7″ |
| Lemonheads, The | Can't Forget / Wild Child | 7″ |
| Lillingtons, The | Death By Television | LP Picture Disc |
| Lonnie Liston Smith | Space Princess | 12″ |
| Los Destellos | Sicodélicos | LPX2 |
| Lou Reed | Ecstasy | 2LP 180g |
| Louis Armstrong | Disney Songs the Satchmo Way | 1 LP Picture Disc |
| Lunz | Lunz3 | LP |
| Luther Vandross | My Body (Louie Vega Remixes) | 12″ |
| M | Pop Muzik | 10″ |
| Madness | One Step Beyond | Shaped picture disc single |
| | | |
| --- | --- | --- |
| Madonna | True Blue (Super Club Mix) | 12″ 6 track EP (BLUE COLOUR VINYL) |
| Madonna | La Isla Bonita (Super Mix) | 12″ 6 track EP (GREEN COLOUR VINYL) |
| Madonnatron ft. Meatraffle on one side & Meatraffle ft. Madonnatron | Bella Ciao (the Meatraffle ft. Madonnatron track) & Brigante Se Mor (Madonnatron ft. Meatraffle track) | 7″ |
| Magnetics, The | A Historical Glimpse Of The Future | LP |
| Mal-One | Punk Times | 7″ |
| Mansun | Legacy | Red 12″ Vinyl |
| Marc Bolan & T. Rex | Bump N Grind | LP |
| Mark Ronson & Miley Cyrus | Nothing Breaks Like A Heart | 12″ Vinyl Single |
| Marshall Allen, Danny Ray Thompson, Jamie Saft, Trevor Dunn, Balazs Pandi w. Roswell Rudd | Ceremonial Healing | TRIPLE 12″ LP |
| Mastodon | Stairway To Nick John | 10″ |
| Mavericks,The / Sweet Lizzy Project – Split 45 | The Flower's In The Seed | 7 |
| Max Richter | La Prima Linea | 1LP |
| Menzingers, The | No Penance/Cemetery's Garden | 7″ |
| Metavari | Absurda (Music Reimagined in the Short Films of David Lynch) | LP |
| Michael Chapman | Another Story | LP |
| Mighty Boosh | The Complete Radio Series | 3LP |
| Mighty Diamonds | Thugs In The Street | LP |
| Mikey Dread | Roots & Culture | 10″ |
| Ming City Rockers | Lollipopper | 7″ |
| Minus 5, The | Stroke Manor | LP |
| Minus 5, The | Stroke Manor | CD |
| Mo-dettes, The | The Story So Far | 1LP |
| Modulations, The | Rough Out Here / I Can't Fight Your Love | 7″ |
| Monolord | Fairies Wear Boots | 10″ |
| Monty Python | Monty Python's Life Of Brian | 1LP picture disc |
| Morcheeba | Blazed Away (The Remixes) | 12″ |
| Morrissey | Lover-To-Be | 7″ |
| Moses Sumney | Black in Deep Red, 2014 | 12″, -sided 12" on Red and Black Splatter Vinyl. Side A is music, Side B is an etching |
| Motörhead | Overkill / Bomber | Gatefold, 2 x 7" picture discs |
| Motörhead | Rockaway Beach | 7″ coloured single vinyl |
| Moules Frites | I Should Care b/w I'm Glad | 10″ |
| Mumford & Sons | Delta Acoustic Sessions – Live From Electric Lady | 10" |
| Mutual Benefit | Just Another Diamond Day | LP |
| My Chemical Romance | The Black Parade Is Dead! | 2LP |
| | | |
| --- | --- | --- |
| Netsky / Etherwood | Ironheart (Nu:Logic Remix) / Begin By Letting Go (Whiney Remix) | 12″ |
| New Barbarians, The (Ronnie Wood/Keith Richards) | Buried Alive | 3 x 12″/ LP |
| New York City | I'm Doin' Fine Now / Quick Fast in a Hurry (Tom Molton Mixes) | 12″ |
| Nichelle Nichols | Know What I Mean / Why Don't You Do Right? | 7″ |
| Night Beats | The Sonic's 'Boom' | LP |
| NJE with Adrian Sherwood, The | Afloat In Dub | LP |
| Noel Gallagher's High Flying Birds | Wait And Return EP | Coloured 12″ |
| Norm Talley | Beyond Time | 12″ |
| Nusrat Fateh Ali Khan and Michael Brook | Night Song | 12″ |
| Olafur Arnalds | Re:member & String Quartets | 2LP |
| Orbital | Buried Deeper Within / Impact (The Cursed Earth Mix) | 12″ |
| OST – Basketball Diaries | The Basketball Diaries–Original Motion Picture Soundtrack (Limited 2-LP "Basketball Orange" Vinyl Edition) | LP2 |
| OST – Battlefield – Johan Söderqvist, Patrik Andrén | Battlefield V Original Soundtrack | LP (Picture Disc) |
| OST – Brian May | The Road Warrior – Mad Max 2 | 1LP |
| OST – Coneheads | Coneheads | 1LP |
| OST – Francois De Roubaix | Daughter of Darkness (François De Roubaix ‎– Les Lèvres Rouges) | 7″ |
| OST – Halt and Catch Fire | Halt and Catch Fire Vol 2 | LP |
| OST – Hidden Figures (Pharrel Wiliams, Hans Zimmer & Benjamin Wallfisch) | Hidden Figures (Original Motion Picture Score) | LP |
| OST – House of Wax | House Of Wax | 2LP |
| OST – Howard Stern Prive Parts | Howard Stern Private Parts: The Album OST | 2LP |
| OST – Lost in Translation | Lost in Translation | Violet Color Vinyl |
| | | |
| --- | --- | --- |
| OST – Malcolm X | Malcolm X | 1LP |
| OST – New Jack City | New Jack City | 1LP |
| OST – Office Space | Office Space | 1LP Colour |
| OST – Ray Heindorf | Spellbound | LP |
| OST – Rogier van Otterloo, feat. Toots Thielemans | Turks Fruit | 1LP |
| OST – Roy Budd | Get Carter | 1LP |
| OST – The Crow | The Crow: Original Motion Picture Soundtrack | 2 LP ; White & Black ; 3 sides audio, 4th side etching |
| OST – Transformers: Dark of the Moon | Transformers: Dark of the Moon | 1LP |
| OST – Transformers: Revenge of the Fallen | Transformers: Revenge Of The Fallen – The Album | 2LP |
| OST – Transformers: The Album | Transformers: The Album | 1LP |
| OST – Twin Peaks (Angelo Badalamenti and David Lynch) | Twin Peaks: Season Two Music And More | 2-LP – 180g colour vinyl w/ gatefold jacket |
| OST – Various/ Breaking Bad | Breaking Bad | 2LP |
| Otis Redding with Booker T. & The M.G.'s and The Mar-Keys | Just Do It One More Time! Otis Redding with Booker T. & The M.G.'s and The Mar-Keys Captured Live At The Monterey International Pop Festival | LP |
| Our Girl | Live at St Pancras Old Church | 12″ Clear |
| Paloma Faith | The Zeitgeist EP | 12″ Pic Disc |
| Parcels | Tieduprightnow / Tape EP | 7″ |
| Paris | I Choose You / Punkin Funkin | 12″ |
| Parliaments, The | Baby I Owe You Something Good | 10″ |
| Pearl Jam | Live At Easy Street | 12″LP |
| Peddlers, The | On a Clear Day | 7″ |
| Pet deaths | To the top of the hill and roll…. | 12" |
| Pete Rock | Return Of The SP-1200 | LP |
| Peter Doherty & The Puta Madres | Who's Been Having You Over / Paradise Is Under Your Nose | 7″ |
| Peter Gabriel | Rated PG | LP Album (picture disc) |
| Pink Floyd | Saucerful Of Secrets | 1LP |
| Pinkfong | Baby Shark | 7″ Picture Disc |
| Police, The | Message In A Bottle | 2×7″ |
| Pooh Sticks, The | the great white wonder | LP |
| Popguns, The | Love Junky | Single vinyl LP |
| Power Of Zeus | The Gospel According To Zeus | LP |
| Prefab Sprout | Steve McQueen (acoustic) | LP Vinyl |
| Prince | The Versace Experience | Cassette |
| Prince | His Majesty's Pop Life / The Purple Mix Club | 1x 12" 45rpm Maxi Single and 1x 12" 33rpm |
| | | |
| --- | --- | --- |
| Prince Fatty | Be Thankful For What You've Got Ft Ear 16 | 7″ |
| Prince Mohamed | African Roots | LP |
| Procol Harum / The Move |  Fly Records @ The BBC: Morning Dew | 7″ Split |
| Prodigy, The | Fight Fire with Fire / Champions of London | 2x 7″ gatefold |
| Prolapse | Backsaturday | LP |
| Propaganda | The Eight Testaments of Propaganda | 4×12″ box set |
| Queen | Bohemian Rhapsody / I'm In Love With My Car | 7" Single – Coloured Vinyl |
| Queen | Bohemian Rhapsody Picture Disc | 2LP – Picture Discs |
| Quiet Village | Silent Move | 1LP Orange Coloured Vinyl |
| Ramones | Live At The Palladium, New York, NY (12/31/79) | 2-LPs, Black Vinyl, Numbered |
| Rasputin's Stash | Stash | LP |
| Redkins, The | Bring It Down! (This Insane Thing) | 10″ |
| Reinhold Friedl | Music For Piano… Spring/Flower/Cracker/Stream | LP |
| Residents, The | B*** S** | LP |
| Rhodri Davies/David Sylvian/ Mark Wastell | There Is No Love | LP |
| Robert Johnson | Kind Hearted Woman Blues / Terraplane Blues | 10″ |
| Robert Plant | Fate of Nations | 12" |
| Robyn | Body Talk | 2LP Coloured Vinyl |
| Roger Glover & Friends | Butterfly Ball | Double LP |
| Rolling Stones, The | Through The Past, Darkly (Big Hits Vol.2) | 1LP |
| Rolling Stones, The | High Tide Green Grass (Big Hits Vol. 1) | 1LP |
| Rolling Stones, The | She's A Rainbow (Live) | 10″ exclusive coloured vinyl |
| Ronnie Lane And The Band Slim Chance | At The BBC | 2LP Purple vinyl |
| Ronnie McNeir | My Baby | 7″ |
| Roots Radics | 12 Inches Of Dub | Single vinyl album with colored vinyl. Cover art includes a peel-off sticker |
| Roxy Music | Debut Album Remixes | 2 x 12″ Single |
| Roy Ayers | Silver Vibrations | LP |
| Rudy Ray Moore | Return Of Dolemite: Superstar | LP |
| Rush | Hemispheres | LP Picture Disc |
| RZA | Birth Of A Prince | LP, smoky blue |
| s t a r g a z e | Instruments (A Track By Track Re-Composition of Fugazi's 'In On The Killtaker') | LP |
| Saint Etienne | Saturday Boy | 7″ |
| Salvador Dalí | Dalí in Venice | 1LP |
| Sam Fender | Play God | 7″ single |
| Santigold | I Don't Want: The Gold Fire Sessions | LP |
| Saxon | Thunderbolt (The Singles) | 7″ Boxset with 5 x 7″ vinyl |
| Say Sue Me | We've Sobered Up | LP 12" |
| Say Sue Me | Big Summer Night | EP 12" |
| Serge Gainsbourg | Avant Gainsbarre | LP |
| Sergio Mendes | Dance Moderno | LP |
| Serj Tankian | Harikiri | 1LP |
| Shakespears Sister | Songs From The Red Room | 2LP |
| Sharon Ridley | Where Did You Learn To Make Love The Way You Do | 7″ |
| She Makes War | Disarm:15 | Transparent Blue Vinyl 12″ |
| Shirley Finney | Pray Again | LP |
| Shit Girlfriend | "Dress Like Cher" / "Socks On The Beach" | 7″ |
| Shocking Blue | Single Collection (part 2) | 2LP |
| Shuggie Otis | Strawberry Letter 23 / Ice Cold Daydream | 7″ |
| Shuggie Otis | Inspiration Information / Ah Uh Mi Hed | 7″ |
| Sigur Rós | Variations on Darkness | LP 1x 12″Heavyweight |
| Sigur Rós | 22° Lunar Halo | LP 1x 12″Heavyweight |
| | | |
| --- | --- | --- |
| Silk City | Electricity EP | 12″ Vinyl Single |
| Silver Apples | Oscillation | LP |
| Simple Minds | Graffiti Soul / Searching For The Lost Boys | 2LP |
| Sivert Hoyem | Where Is My Moon | 10″ |
| Six By Seven | The Things We Make | LP |
| Sleeper | Live at the Ritz | Pearl Coloured 12″ |
| Slowthai | Doorman / Peace Of Mind | 12″ |
| Sly & The Family Stone | Live At Woodstock Sunday August 17, 1969 | x2 LP Vinyl |
| Smiles / Astronauts | Just A Star (Original) / Just A Star (Cover Version) | 7″ |
| Smith & Mighty | The Three Stripe Collection 1985-1990 | LPX2 |
| Soccer Mommy | For Young Hearts | LP |
| Sol Seppy | The Bells Of 1 2 | LP |
| Sonny Boy Williamson | Don't Send Me No Flowers | 12″ |
| Soul Mekanik | Go Upstairs / Echo Beach (feat. Isabelle Antena) | 12″ |
| Soul Surfers, The | KU Theme | 7″ |
| Spacemen 3 | Live in Europe 1989 | Double LP |
| Specials, The | 10 Commandments / You're Wondering Now | 7″ Single |
| Spirit | Spirit – Original Mix / Zaf & Phil Asher Edit | 12″ |
| Stalawa | In East Africa | 12" EP |
| Status Quo | Quid Pro Quo – Pop Up | LP |
| Stereophonics | Live From Dakota | 2LP |
| Steve Earle | A – El Coyote / B – Don't Let The Sunshine Fool You | 7″ |
| Straight Arrows | Another Day in the City | 7″ |
| Stray Cats | Cat Fight (Over A Dog Like Me) | 12″ |
| Streets, The | Remixes & B Sides Too | 2LP |
| Struts, The | Young & Dangerous | 12″ coloured vinyl |
| Sublime | Nugs – Best of Box | 1LP coloured vinyl |
| Suede | Head Music – 20th Anniversary | 3LP |
| | | |
| --- | --- | --- |
| Sugar Daddy | Love On the Attack | 12″ |
| Suicide | Dream Baby Dream | 12″ coloured vinyl |
| Sunn O))) | Life Metal | 2LP Orange |
| Sunn O))) | Life Metal | CD |
| Supergrass | Pumping On Your Stereo / Mary | 10″ picture disc |
| | | |
| --- | --- | --- |
| Swervedriver | Reflections / Think I'm Gonna Feel Better | 12″ Single |
| Sylvers, The | The Sylvers | LP |
| Tangerine Dream | Machu Picchu | Yellow Vinyl |
| Tangerine Dream | Poland | Double LP |
| Teddy Pendergrass | You Can't Hide from Yourself / The More I Get, the More I Want | 12″ |
| Teenage Fanclub | The King | LP |
| Television Personalities | Some Kind Of Happening: Singles 1978-1989 | 2LP + 7″ |
| Television Personalities | Some Kind Of Trip: Singles 1990-1994 | 2LP |
| Ten Years After | The Cap Ferrat Sessions | LP |
| The Wedding Present | Davni Chasy | 7″ |
| Thin Lizzy | Black Rose | 2LP |
| This Is The Kit | Krulle Bol | LP |
| Thrice | Deeper Wells | 12″ |
| Thunder | Please Remain Seated – The Others | 12″ clear vinyl LP |
| Tickle, The | Rare & Unreleased: 1967 | 10″ |
| Tim Buckley | Honeyman | 2-LP |
| Tindersticks | Willow (feat. Robert Pattinson) | 7″ |
| Tiny Tim | Live! At The Royal Albert Hall | 2LP, 180g color vinyl, gatefold tip-on jacket |
| TMNT | Turtles in Time Soundtrack | 7″ |
| Todd Rundgren | Bearsville/WB era A & B sides singles collection on LP | 4LP box |
| Tony Joe White | LFAT | LP |
| Tosca | No Hassle | 2LP Blue Gatefold LP |
| Townes Van Zandt | The Best Of Townes Van Zandt | 12″ |
| Toyah | In The Court Of The Crimson Queen | LP |
| Trembling Bells & Alex Rex | I Am The King | 10" |
| Trojans, The (Gaz Mayall) | Top Hits | LP |
| TVAM | No Silver Bird / Narcissus (Tunng Remix) | 7″ |
| Twink | Think Pink | 2X 12″ |
| Twink and the Technicolour Dream | Sympathy for the Beast | 12″ |
| U2 | The Europa EP | 12" Single – Black Vinyl |
| | | |
| --- | --- | --- |
| UK Subs | Another Kind Of Blues – 40th Anniversary | 2 x 10″ |
| Uli Jon Roth | Scorpions Revisited | 4 x 12″ on a double gatefold sleeve |
| Unkle | Sunrise (Always Comes Around) [Audion Remix] | 10" |
| Unloved | Heartbreak Instrumentals | LP |
| Used, The | Live from maida vale | LP |
| Van Morrison | Astral Weeks Alternative | 10″ Mini album |
| Various | The House That Cr2 Records Built | 2 x 12″ clear, heavyweight and numbered deluxe vinyl Ltd Ed package, 1000 copies only |
| Various – Brown Acid | Volume 8  RSD Version | LP |
| Various – Emotional Response | Positive Times Infinity (An Emotional Response Compilation) | LP |
| Various – Freakbeat Scene | The Freakbeat Scene | 2LP |
| Various – Ghost World OST | Ghost World | LP |
| Various – Good Vibrations Presents | Good Vibrations Music presents Re-Vibrations (A Remix Collection) | 2×12″ |
| Various – Greg Belson's Divine Disco | Greg Belson's Divine Disco Volume Two: Obscure Gospel Disco (1979-1987) | 2LP |
| Various – Kemet Deep Sessions | Kemet Deep Sessions – Vinyl Sampler | 12″ |
| Various – Los Angeles Nuggets | Where The Action Is! Los Angeles Nuggets | 2LP Black Vinyl |
| Various – Max's SKAnsas City | Max's SKAnsas City | LP |
| Various – Mickey Mouse Disco | Mickey Mouse Disco | 1LP |
| Various – Mod Scene | The Mod Scene | 2LP |
| Various – Modern Soul | Modern Soul | 7×7″ box set |
| Various – New Orleans Soul | New Orleans Soul 68 | LP |
| Various – New York Soul | New York Soul 1968 | LP |
| Various – Northern Soul | Northern Soul | 7×7″ box set |
| Various – Northern Soul Scene | The Northern Soul Scene | 2LP |
| Various – Psyché France | Psyché France Vol. 5 1960-70 | 1LP |
| Various – Psychedelic Scene | The Psychedelic Scene | 2LP |
| Various – R&B Scene | The R&B Scene | 2LP |
| Various – R&B Style 1964 | Mighty Instrumentals R&B Style 1964 | LP |
| Various – Sherman Brothers | The Sherman Brothers Song Book | 1LP |
| Various – Soho Scene '59 | Soho Scene '59 (Jazz Goes Mod) | LP |
| Various – Soul Jazz Records Presents | Studio One Showcase 45 Box Set | 5x 7″ BOXSET |
| Various – Soul Jazz Records Presents | BOOMBOX 45 Box Set | 5x 7″ BOXSET |
| Various – Soul Slabs vol 2 | Soul Slabs Volume 2 | 3LP Box Set |
| Various – South Park | Music From And Inspired By The Motion Picture South Park: Bigger, Longer & Uncut | Double Colour Vinyl Deluxe Edition – with Book, die cut sleeves and pop up |
| Various – Steve Lamacq | Steve Lamacq – Lost Alternatives | 2LP |
| Various – Super Disco Edits | Long Distance Love Affair | 2LP |
| Various – Texas Soul | Texas Soul '68 | LP |
| Various – The Cable Guy | The Cable Guy | 2xLP |
| Various – The Faculty | The Faculty – OST (20th Anniversary) | LP |
| Various – The Sopranos | The Sopranos (20th Anniversary) – Peppers & Eggs | 2XLP |
| Various – This is Ska | This Is Ska | LP |
| Various – VP Records | Roots From The Yard | 7″ (box set) |
| Various – Woodstock | Woodstock (PA Mono Version) | 3LP, black vinyl set |
| Various – You Flexi Thing | You Flexi Thing Vol 5 | 7″ Flexi disc |
| Various Artist | Too Slow to Disco Neo – En France | Pink 2LP |
| Various Artists | The Wit & Wisdom of Donald Trump | LP |
| Various Artists | Disco Not Disco | 3LP |
| Various Artists | Brazil Classics | 3LP |
| Various Artists | Music For Dreams : Summer Sessions for Record Store Day 2019 | LP |
| Various Artists | AA Sessions Volume 1 | LP |
| Venom | Manitou | Shaped picture disc |
| Vivian Stanshall & Gargantuan Chums (John Entwistle & Keith Moon) | Suspicion | 7″ |
| Weezer | Dusty Gems and Raw Nuggets: The B-Sides | 1 LP – Translucent Blue & White Swirl Vinyl |
| Weezer | Teal | 12″ Teal Coloured Vinyl |
| | | |
| --- | --- | --- |
| Wendy Carlos /Rachel Elkind | Kubrick | 7″ |
| Wes Montgomery | Back on Indiana Avenue: The Carroll DeCamp Recordings | 2LP |
| William Fitzsimmon | Live | 2LP |
| Wilson, Hawkins, May, Taylor | Holy Man | 7″ Vinyl |
| Wipers | Alien Boy EP | 7″ |
| Wonder Years, The | The Wonder Years Live From Maida Vale | 10″ |
| Wonk Unit | Odds, Sods and Other Uncomfortable Silences | LP |
| X-Ray Spex | I Am A Cliché – Anthology | 2LP – dayglo vinyl, gatefold sleeve with art card. |
| Yazoo | Reconnected – Live | 2LP – 180gm black vinyl, gatefold sleeve |
| Yes | 1st Album (50th Anniversary) | 1LP – 180gram colour vinyl |
| Zero 7 | Home (Alternative Mix / Somersault (Danger Mouse Ft. MF Doom Remix) | 10″ |
| Ziad Rahbani | Abu Ali | Limited Edition coloured LP |