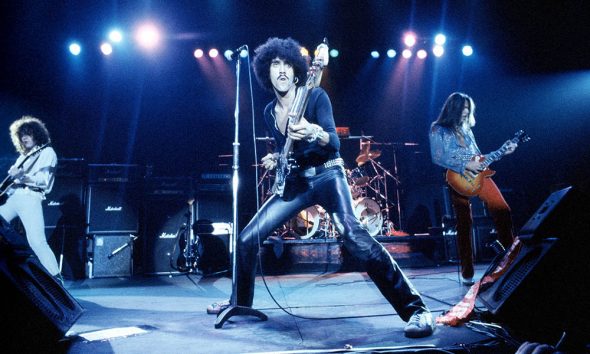 Thin Lizzy lanzarán el 1 de octubre la monumental box set "Rock Legends", una caja de seis CDs y un DVD repleta de rarezas. En total lleva 99 temas, de los cuales 74 nunca se han lanzado antes y otros nueve aparecen por primera vez en CD.
Recopilado por el guitarrista Scott Gorham y el experto en la banda irlandesa Nick Sharp, el primer disco de Rock Legends consta de versiones individuales de 22 canciones de Thin Lizzy, incluyendo las célebres "Whisky in the Jar", "The Boys Are Back in Town" y "Dancing in the Moonlight".
A ese primero más genérico se suman cuatro discos de demos, tomas en vivo y versiones alternativas, recogiendo uno de ellos rarezas de su época en Decca y los otros tres sus años en Mercury. El sexto CD presenta lo más destacado de dos de sus tres conciertos en el Hammersmith Odeon de Londres presentando su álbum "Chinatown" de 1980.
El DVD incluye el documental Bad Reputation y una actuación de 1976 del especial de televisión de Rod Stewart en el que promocionó su álbum "A Night on the Town".
El estupendo pack incluye réplicas de los programas de gira de Thin Lizzy, libros de poesía del líder Phil Lynott, cuatro impresiones y un libro con citas de miembros de la banda y de fans famosos de Lizzy como James Hetfield, Joe Elliott, Slash, Geddy Lee y Lemmy Kilmister.
La box set ya se puede encargar en la tienda web de Universal.
Entretanto se estrenó recientemente un teaser del documental sobrela vida de Lynott, "Songs for While I'm Away". Se espera que la película se estrene en Irlanda en otoño. Un comunicado de prensa señala: "Contada extensamente a través de las palabras del propio Phil y centrándose en algunas de sus canciones icónicas, la película tiene como objetivo llegar al corazón de Philip: el padre, el esposo, el amigo, el hijo, el ícono del rock, el poeta y el soñador".
Thin Lizzy, 'Rock Legends' Track Listing
Disc One: The Singles
"Whiskey in the Jar" – 7″ Edit
"Randolph's Tango" – Radio Edit
"The Rocker" – 7″ Edit
"Little Darling" – 7″ Single
"Philomena" – 7″ Single
"Rosalie" – 7″ Mix
"Wild One" – 7″ Single
"The Boys Are Back in Town" – 7" Edit
"Jailbreak" – 7" Edit
"Don't Believe a Word" – 7″ Single
"Dancing in the Moonlight" – 7″ Single
"Rosalie / Cowgirl's Song" – 7″ Single
"Waiting for an Alibi" – Extra Verse
"Do Anything You Want To" – 7″ Single
"Sarah" – 7″ Single
"Chinatown" – 7" DJ/Radio Edit
"Killer on the Loose" – 7″ Single
"Trouble Boys" – 7″ Single
"Hollywood (Down on Your Luck)" – 7" Edit
"Cold Sweat" – 7″ Single
"Thunder and Lightning" – 7" Edit
"The Sun Goes Down" – 7" Remix
Disc Two: Decca Rarities
"The Farmer" – Debut 7″ single
"I Need You" – Debut 7″ single B-side
"Whiskey in the Jar" – Extended Version Rough Mix
"Black Boys on the Corner" – Rough Mix
"Little Girl in Bloom" – US Single Promo Edit
"Gonna Creep Up on You" – Acetate
"Baby's Been Messin'" – Acetate
1969 Rock + Intro" – RTE Radio Eireann Session 16 January 1973
"Buffalo Gal + Intro" – RTE Radio Eireann Session 16 January 1973
"Suicide + Intro" – RTE Radio Eireann Session 16 January 1973
"Broken Dreams + Intro" – RTE Radio Eireann Session 16 January 1973
"Eddie's Blues/Blue Shadows + Intro" – RTE Radio Eireann Session 16 January 1973
"Dublin + Intro" – RTE Radio Eireann Session 16 January 1973
"Ghetto Woman" – RTE Radio Eireann Session 04 January 1974
"Things Ain't Working Out Down at the Farm" – RTE Radio Eireann Session 04 "January 1974
"Going Down" – RTE Radio Eireann Session 04 January 1974
"Slow Blues" – RTE Radio Eireann Session 04 January 1974
Disc Three: Mercury Rarities
"Rock and Roll with You" – Instrumental Demo
"Banshee" – Demo
"Dear Heart" – Demo
"Nightlife" – Demo
"Philomena" – Demo
"Cadillac" – Instrumental Demo
"For Those Who Love to Live" – Demo
"Freedom Song" – Demo
"Suicide" – Demo
"Silver Dollar" – Demo
"Jesse's Song" – Instrumental Demo
"Kings Vengeance" – Demo
"Jailbreak" – Demo
"Cowboy Song" – Demo
Disc Four: Mercury Rarities
"The Boys Are Back in Town" – Demo
"Angel From the Coast" – Demo
"Running Back" – Demo
"Romeo and the Lonely Girl" – Demo
"Warriors" – Demo
"Emerald" – Demo
"Fool's Gold" – Demo
"Weasel Rhapsody" – Demo
"Borderline" – Demo
"Johnny" – Demo
"Sweet Marie" – Demo
"Requiem for a Puffer (aka Rocky)" – Alternate Vocal, "Rocky He's A Roller"
"Killer Without a Cause" – Demo
"Are You Ready" – Demo
"Blackmail" – Demo
"Hate" – Demo
Disc Five: Mercury Rarities
"S & M" – Demo
"Waiting for an Alibi" – Demo
"Got to Give It Up" – Demo
"Get Out of Here" – Demo
"Roisin Dubh (Black Rose) A Rock Legend" – Demo
"Part One: Shenandoah"
"Part Two: Will You Go Lassie Go"
"Part Three: Danny Boy"
"Part Four: The Mason's Apron"
"We Will Be Strong" – Demo
"Sweetheart" – Demo
"Sugar Blues" – Demo
"Having a Good Time" – Demo
"It's Going Wrong" – Demo
"I'm Gonna Leave This Town" – Demo
"Kill" – Demo
"In the Delta" – Demo
"Don't Let Him Slip Away" – Demo
"The Sun Goes Down" – Demo
Disc Six: Chinatown Tour 1980
"Are You Ready?" – Hammersmith Day 2 (05/29/80)
"Hey You" – Hammersmith Day 2 (05/29/80)
"Waiting for an Alibi" – Hammersmith Day 2 (05/29/80)
"Jailbreak" – Hammersmith Day 2 (05/29/80)
"Do Anything You Want to Do" – Hammersmith Day 2 (05/29/80)
"Don't Believe A Word" – Tralee (04/12/1980)
"Dear Miss Lonely Hearts" – Hammersmith Day 2 (05/29/80)
"Got to Give It Up" – Hammersmith Day 3 (05/30/80)
"Still in Love with You" – Hammersmith Day 3 (05/30/80)
"Chinatown" – Hammersmith Day 3 (05/30/80)
"The Boys Are Back in Town" – Hammersmith Day 3 (05/30/80)
"Suicide" -Hammersmith Day 3 (05/30/80)
"Sha La La" – Hammersmith Day 2 (05/29/80)
"Rosalie" – Hammersmith Day 2 (05/29/80)
"Whiskey in the Jar" – Hammersmith Day 3 (05/30/80)