GRACE JONES : "NIGHTCLUBBING" (1981), ALBUM HISTORICO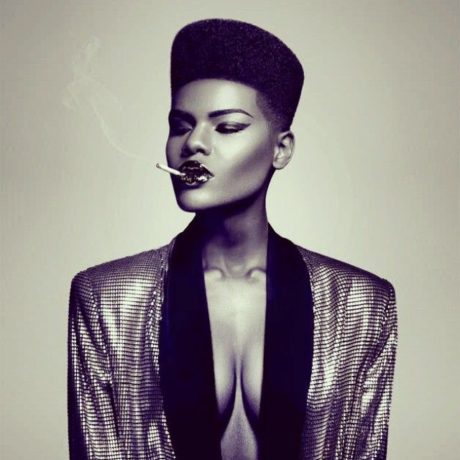 El  "Nightclubbing" de Grace Jones fue una especie de prodigio de sofisticación y un triunfo de la fusión de estilos desde un perspectiva pop y dance.
La cantante y modelo jamaicana ya había cambiado su música un año antes con la edición de su sorprendente "Warm Leatherette", un paso hacia la nueva ola tras una trilogía de estricta música disco finalizando los 70, pero fue "Nightclubbing" el trabajo que apuntaló su nueva dirección y con el que logró un estilo propio y definitorio.
Un álbum con una ya mítica portada con una foto de Jean Paul Gaude coloreada, en la que Grace Jones aparece como un exótico ser andrógino.
Una carpeta fascinante que servía de envoltorio a un no menos fascinante disco. Versiones de Iggy Pop (la que da título al álbum de Grace, una de las mejores de su disco berlinés "The Idiot", la cumbre de Iggy en solitario, escrita musicalmente por David Bowie).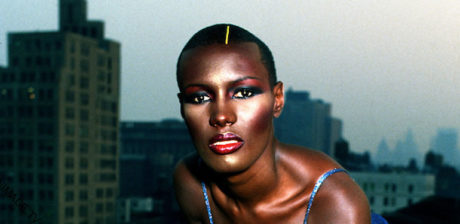 También temas de Bill Whiters ("Use Me"), Astor Piazolla, The Police ("Demolition Man"), Flash & The Pan y tres originales de Grace co escritas con Barry Reynolds, entre ellas el disco-funk del éxito "Pull It To The Bumper".
Fue el segundo disco de su trilogía Compass Point, un estudio de grabación en las Bahamas, y también el segundo que grabó para el sello de Chris Blackwell, Island, sin duda uno de los más avanzados de los años 70.
Hubo  temas que no salieron en su día como , "Me! I Disconnect From You" de Gary Numan & Tubeway Army. Grace ya había hecho "Warm Leatherette" de The Normal, otro grupo del post-punk-tecno británico, en su disco anterior.Además Grace Jones cantó en español "Esta cara me es conocida"de Astor Piazzola. 
EL ALBUM.- 
1. "Walking in the Rain" Harry Vanda, George Young 4:18
2. "Pull Up to the Bumper" Grace Jones, Koo Koo Baya, Dana Mano 4:41
3. "Use Me" Bill Withers 5:04
4. "Nightclubbing" David Bowie, Iggy Pop 5:06
Side two
5. "Art Groupie" Jones, Barry Reynolds 2:39
6. "I've Seen That Face Before (Libertango)" Ástor Piazzolla, Reynolds, Dennis Wilkey, Nathalie Delon 4:30
7. "Feel Up" Jones 4:03
8. "Demolition Man" Sting 4:03
9. "I've Done It Again" Reynolds, Marianne Faithfull 3:51
2014 deluxe edition bonus disc
1. "Demolition Man" (12" version) Sting 4:58
2. "Pull Up to the Bumper" (12" version) Grace Jones, Koo Koo Baya, Dana Mano 5:45
3. "I've Seen That Face Before (Libertango)" (12" version) Astor Piazzolla, Barry Reynolds, Dennis Wilkey, Nathalie Delon 5:38
4. "Walking in the Rain" (12" version) Harry Vanda, George Young 7:25
5. "Pull Up to the Bumper" (remixed version) Grace Jones, Koo Koo Baya, Dana Mano 7:15
6. "Use Me" (long version) Bill Withers 6:10
7. "Pull Up to the Bumper" (US party version) Grace Jones, Koo Koo Baya, Dana Mano 5:00
8. "Feel Up" (extended version) Grace Jones 6:15
9. "Pull Up to the Bumper" (1985 remix) Grace Jones, Koo Koo Baya, Dana Mano 6:24
10. "Peanut Butter" (Performed by Compass Point All-Stars) Grace Jones, Koo Koo Baya, Dana Mano 5:10
11. "If You Wanna Be My Lover" (Previously unreleased) 6:35
12. "Me! I Disconnect from You" (Previously unreleased) Gary Numan 5:33
13. "Esta Cara Me es Conocida" (Spanish version of "I've Seen That Face Before (Libertango)") Astor Piazzolla, Barry Reynolds, Dennis Wilkey, Nathalie Delon 4:32
PERSONAL.-
Wally Badarou – keyboards
Monte Browne – rhythm guitar
Mikey Chung – guitar
Masai Delon – vocals
Tyrone Downie – keyboards, vocals
Sly Dunbar – drums, syndrums
Jack Emblow – accordion
Grace Jones – vocals, backing vocals
Barry Reynolds – guitar
Jess Roden – vocals
Robbie Shakespeare – bass guitar
Mel Speller – percussion, vocals
Uziah Thompson – percussion
PRODUCCION 
Chris Blackwell, Alex Sadkin
Ted Jensen – mastering