Paul Buckmaster, el soberbio  arreglista, neoyorkino  medio italiano , ha muerto  a los 71 años por causas no reveladas . Paul fue decisivo en  la excepcional "Your song" , donde surgió el amor "fou" de Elton John por Buckmaster,  el soberbio arreglista de la canción , que había sido el mismo músico precisamente -otra vez sale él- del "Space Oddity" de David Bowie.Y, poco más tarde, "Withou you" para Nilsson. 
Escucha David Bowie

en Amazon Music Unlimited (ad)
Elton perdió la virginidad de  inexperto homosexual  con Paul Buckmaster, que  fue decisivo en los arreglos de los tres primeros discos, incluida "Your Song" y ,sobre todo, en la obra maestra absoluta que es el álbum , "Madman across the water".
En manos de Buckmaster, las secciones de cuerdas en los discos de rock no eran escandalosas. Eran maravillosas, como en "Moonlight Mile" de los Rolling Stones.  Oscuras y meditabundas  en "Madman Across the Water" de Elton John, "Sway" de los Stones, majestuosos "Without you" de Harry Nilsson, "Levon" de John  e imaginativas en  "You're So Vain" de Carly  Simon. Incluso exuberantes  exuberantes sen "Back to December" de Taylor Swift. Incluso ra un mago para introducir los cuernos franceses y otros instrumentos de aire  que subrayaron el tema de  Guns N 'Roses , "Madagascar". Paul era un genio, simplemente.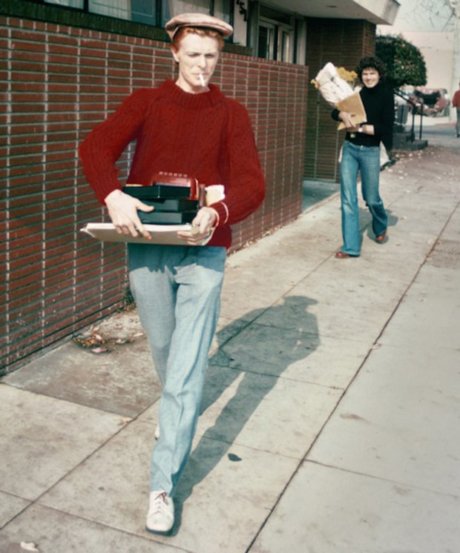 Primero fue violonchelista itinerante con los Bee Gees y  de Paul Jones, el ex cantante de Manfred Mann. Buckmaster se vio atraído a un mundo musical muy diferente, y su trabajo fantasmal sobre "Space Oddity", seguido un año después por sus orquestaciones en varias pistas del el álbum de Elton John , particularmente "Your Song" y "Sixty Years On", estableció a Buckmaster como rey de los arreglistas. 
Desde ese momento, Buckmaster parecía estar en todas partes. Elton John definía:
"No creo que Paul haya obtenido el crédito que se mereceHa influido en muchos escritores de cuerdas, especialmente en el álbum de Elton John ; todos pellizcan a Paul Buckmaster. Al igual que Lennon en Imagine , estoy sin decir que lo pellizcó, pero usó muchas ideas fantásticas de Paul. Creo que nadie usó cuerdas realmente hasta que llegó Buckmaster y les mostró que puedes usar cuerdas sin que sean azucaradas y horribles ".
Aunque se le asoció en gran medida con la era del rock clásico, Buckmaster apenas se desaceleró; en los últimos años, trabajó no solo con GNR y Swift, sino con Train, Brandi Carlile, Faith Hill y otros, y se movió al cine con Twelve Monkeys .
Pero será su trabajo de rock por el que será mejor recordado, y con razón: en sus manos, y los de sus violinistas y directores, Buckmaster hizo que las posibilidades del rock parezcan aún más infinitas.
su obra:
2016 Max&Friends "Dove c'è amore"
"Arrivi Tu"
"Acqua"
"Sabato Sera"
"Una parte del tutto"
"Felice"
"Terra mia" Max&Friends Co-composer
Arranger
2016 Idina Menzel "Extraordinary"
"Show Me"
"Everybody Knows"
"Small World"
"I Do"
"I See You"
"Like Lightning"
"Last Time" idina. Arranger
2016 Heart "I Jump"
"City's Burning"
"Sweet Darlin"
"Language of Love" Beautiful Broken Arranger
2015 The Tenors "I Remember You" Under One Sky Arranger
2014 Hunter Hayes "…interlude" Storyline Arranger/Conductor
2014 Ferras feat. Katy Perry "Legends Never Die" Ferras Arranger/Conductor
2013 Goo Goo Dolls "When The World Breaks Your Heart" Magnetic Arranger/Conductor
2012 Ben Folds Five "On Being Frank"
"Away When You Were Here" The Sound of the Life of the Mind Arranger/Conductor
2010 Taylor Swift "Back to December"
"Haunted" Speak Now Arranger/Conductor
2009 Mika "I See You" The Boy Who Knew Too Much Arranger/Conductor
2008 Guns N' Roses "Street of Dreams"
"There Was A Time"
"Madagascar"
"Prostitute" Chinese Democracy Arranger/Conductor
2007 The Bravery "The Ocean" The Sun and the Moon Arranger/Conductor
2007 Mika "Happy Ending" Life in Cartoon Motion Arranger/Conductor
2007 Katharine McPhee "Ordinary World" Katharine McPhee Arranger/Conductor
2007 Michael Bublé "Lost" Call Me Irresponsible Arranger/Conductor
2007 Mig Ayesa "Baby I Love Your Way"
"Kiss From a Rose"
"Who Wants to Live Forever"
"Can't Find My Home"
"Life on Mars"
"Wrapped Around Your Finger" Mig Arranger/Conductor
2006 Ben Folds "Still" Over the Hedge (Soundtrack) Arranger/Conductor
2006 New Found Glory "When I Die"
"Boulders" Coming Home Arranger/Conductor
2006 Kenny Rogers "Water & Bridges"
"One Life" Water & Bridges Arranger/Conductor
2006 Jesse McCartney "Invincible" Right Where You Want Me Arranger/Conductor
2006 Bianca Ryan "Awake" Bianca Ryan Arranger/Conductor
2005 Bon Jovi "Wildflower" Have a Nice Day Arranger/Conductor
2005 Carrie Underwood "Lessons Learned"
"Starts With Goodbye" Some Hearts Arranger/Conductor
2005 Faith Hill "Paris" Fireflies Arranger/Conductor
2005 Ben Folds "Landed" Songs for Silverman Arranger/Conductor
2005 The Wallflowers "Beautiful Side of Somewhere" Rebel, Sweetheart Arranger/Conductor
2005 The Darkness "Seemed Like a Good Idea at the Time"
"Girlfriend"
"Blind Man" One Way Ticket to Hell… and Back Arranger/Conductor
2005 Nerina Pallot "Geek Love"
"Idaho" Fires Arranger/Conductor
2004 Keith Urban "Tonight I Wanna Cry"
"She's Gotta Be" Be Here Arranger/Conductor
2004 Tears for Fears "Secret World" Everybody Loves a Happy Ending Arranger/Conductor
2004 Third Day "Wire"
"It's a Shame" Wire Arranger/Conductor
2003 Train "Lincoln Avenue"
"Your Every Color" My Private Nation Arranger/Conductor
2003 The Thorns "No Blue Sky" The Thorns Arranger/Conductor
2003 Something Corporate "The Runaway"
"Me and the Moon" North Arranger/Conductor/Performer
2003 Beth Hart "I'll Stay With You" Leave the Light On Arranger/Conductor
2003 Luis Miguel "Nos Hizo Falta Tiempo" 33 Arranger/Conductor
2003 Live "Run Away" Birds of Pray Arranger/Conductor
2003 Wilshire "In Your Arms"
"Tonight" New Universe Arranger/Conductor
2002 Faith Hill "You're Still Here"
"Safest Place to Hide" Cry Arranger/Conductor
2002 Tim McGraw "She's My Kind of Rain" Tim McGraw and the Dancehall Doctors Arranger/Conductor
2002 Something Corporate "Punk Rock Princess"
"The Astronaut"
"Cavanaugh Park"
"Not What It Seems"
"Globes And Maps" Leaving Through the Window Arranger/Conductor
2001 Train "Drops of Jupiter" Drops of Jupiter Arranger/Conductor
2002 Grammy Winner
Arrangement of the Year
2001 Elton John "This Train Don't Stop There Anymore"
"Original Sin"
"Ballad of the Boy in the Red Shoes"
"Mansfield"
"Emperor's New Clothes" Songs from the West Coast Arranger/Conductor
2000 No Doubt "Too Late (Reprise)" (Hidden instrumental track) Return of Saturn Arranger/Conductor
1999 Julio Iglesias Jr Under My Eyes Arranger/Conductor
1999 Tal Bachman "Beside You"
"You're My Everything" Tal Bachman Arranger/Conductor
1999 Lara Fabian "Sola Otra Vez" Lara Fabian Arranger
1998 Des'ree "Time" Supernatural Arranger/Conductor
1997 Collective Soul "She Said" Scream 2 Soundtrack Arranger/Conductor/Co-composer
1996 Counting Crows "Daylight Fading"
"I'm Not Sleeping"
"Another Horsedreamer's Blues" Recovering the Satellites Arranger/Conductor
1996 Celine Dion "Falling into You" Falling into You Arranger/Conductor
1995 Elton John "Believe"
"Belfast"
"House"
"Cold" Made in England Composer/Arranger/Conductor
1995 The Jayhawks "Blue" Tomorrow the Green Grass Arranger
1993 Dwight Yoakam "Ain't That Lonely Yet"
"Try Not to Look So Pretty" This Time Arranger/Conductor
1994 Grammy Winner
Best Male Country Vocal Performance
1992 Lionel Richie "My Destiny"
"Love, Oh Love" Back to Front Arranger/Conductor
1991 Kenny Loggins "Cody's Song"
"Too Early for the Sun" Leap of Faith Arranger/Conductor
1991 Lloyd Cole Don't Get Weird on Me Babe Arranger/Conductor
1985 Mick Jagger "Hard Woman" She's the Boss Arranger/Conductor
1983 Nick Heyward North of a Miracle Arranger[4]
1983 Stevie Nicks "Beauty and the Beast" The Wild Heart Arranger/Conductor
1978 Elton John A Single Man Arranger/Conductor
1977 Grateful Dead Terrapin Station Arranger/Conductor entire Side Two of Album
1976 Elton John Blue Moves Arranger/Conductor
1975 Thijs van Leer O My Love Arranger/Conductor
1974 Miles Davis "Ife" Big Fun Arranger/Conductor
1974 Carly Simon "Haven't Got Time for the Pain" Hotcakes Arranger/Conductor
1973 Elton John "Have Mercy on the Criminal"
"Blues for My Baby and Me" Don't Shoot Me I'm Only the Piano Player Arranger/Conductor
1973 Shawn Phillips "Lady of the Blue Rose" Bright White Arranger/Conductor
1973 Blood, Sweat & Tears No Sweat Arranger/Conductor
1972 Miles Davis On the Corner Arranger/Conductor
1972 Carly Simon "You're So Vain" No Secrets Arranger/Conductor
1971 Elton John "Tiny Dancer"
"Levon" Madman Across the Water Arranger/Conductor/Musical Director (Full Album)
1971 Rolling Stones "Moonlight Mile"
"Sway" Sticky Fingers Arranger/Conductor
1971 Leonard Cohen Songs of Love and Hate Arranger/Conductor
1971 Harry Nilsson "Without You" Nilsson Schmilsson Arranger/Conductor
1971 Elton John
"Variations on "Friends" Theme"
"Variations on Michelle's Song"
"I Mean To Do My Work Today"
"Four Moods"
Friends Arranger/Conductor/Musical Director (Full Album)
1970 Elton John Tumbleweed Connection Arranger/Conductor/Musical Director (Full Album)
1970 Elton John "Your Song"
"Border Song"
"The Greatest Discovery" (cello Intro) Elton John Arranger/Conductor/Musical Director (Full Album)
1970 Shawn Phillips "F Sharp Splendor" (instrumental) Second Contribution Arranger/Musical Director/Keyboards (Full Album)
1970 Mick Farren "Mona, The Whole Trip" Mona – The Carnivorous Circus Solo cello
1969 David Bowie "Space Oddity"
"Wild Eyed Boy from Freecloud" Space Oddity Arranger/Cellist/Conductor
1969 The Bee Gees – Odessa – cello