Steve Strange y Rusty Egan, miembros de Visage y responsables de The Blitz, el club donde nació todo el movimiento de los "New Romantics".
Bruce Springsteen: recomendaciones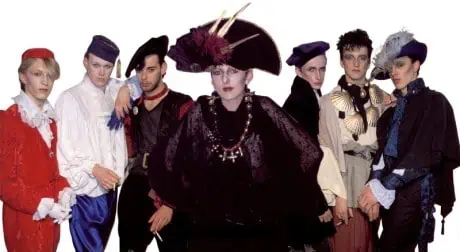 Steve y Rusty eran, respectivamente, el portero y el disc-jockey de aquel viejo Blitz. Juntos fundaron el supergrupo Visage, con Midge Ure y Billy Currie de Ultravox y varios miembros de Magazine.
The Blitz y sus clientes habituales, músicos y gente de la bohemia londinense dieron pie al nacimiento de formidables grupos de los ochenta. Desde Duran Duran pasando por Spandau Ballet, Classic Noveaux, Culture Club, Sigue Sigue Sputnik y tantos otros.
Fue una maravillosa forma de recrear la moda, la ropa como revolución, la inteligencia, la música y la sensibilidad, en fatricida lucha contra lo que ellos llamaban los dinosaurios. Strange siempre se jactó de no dejar entrar en el club a Mick Jagger por viejo y vestir inapropiadamente. Dijo que no le conoció, pero en una cena, aquí, en Madrid, me confesó que sabía perfectamente quien era al no dejarle entrar en el club.
Ya sabéis mi respuesta ante tales reapariciones. Nunca segunda partes fueron buenas. No me gustan las nostalgias. Pero, desde luego, es bueno que se vuelva a hablar de una época única y sofisticada del pop británico, donde David Bowie fue el gran icono y queda muy reflejado en la aparición de los "blitz kids" en su Ashes to Ashes.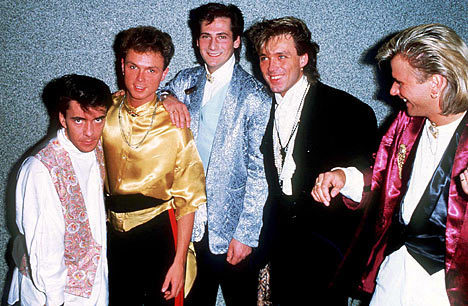 El club, ya sabéis, está en Covent Garden, cerca, en el numero 4 de Queen Street. Tantas veces fui en aquella época.
MEJORES CANCIONES DE NEW ROMANTICS
Hay muchos tema, enormes, pero hay que seleccionar lo mejor de lo mejor. Este es el fantástico resultado:
VISAGE.- Fade To Grey 03:48

THE HUMAN LEAGUE.-Don't You Want Me 04:00

ULTRAVOX.- Vienna 04:37

ABC.- The Look Of Love 03:27

HEAVEN 17.- (We Don't Need This) Fascist Groove Thang 04:18

LANDSCAPE.- Einstein A Go-Go 02:58

SPANDAU BALLET.- To Cut A Long Story Short 03:20

DURAN DURAN.- Girls On Film 03:29

OMD – Souvenir 03:22

THOMPSON TWINS.- Love On Your Side 03:48

CULTURE CLUB.- Do You Really Want To Hurt Me 04:20

YAZOO.- Don't Go 02:50

TALK TALK.- It's My Life 03:51

A FLOCK OF SEAGULLS.- Wishing (If I Had A Photograph Of You) 03:37

RE-FLEX.- The Politics Of Dancing 03:54
PLAYLIST
LISTAS COMPLETA DE TEMAS DE NEW ROMANTICS
Además de la selección dejamos una lista de de los temas favoritos que Rusty Egan pinchaba en el mítico club Blitz:
Don Armando – Deputy of Love (12″ full length version) 1979
Blondie – Heart of Glass (7″ edit) 1978
David Bowie – Always Crashing in the Same Car (from the album Low) 1977
David Bowie – Be My Wife 1977
David Bowie – Helden (German 7″ version) 1977
David Bowie – Sound & Vision 1977
David Bowie – D.J. (7″ edit) 1979
David Bowie – Ashes to Ashes (7″ edit) 1980
Cabaret Voltaire – Nag Nag Nag 1979
Wendy Carlos – Theme from a Clockwork Orange (Beethoviana) 1972
Cerrone – Supernature (12″ full length version) 1977
Billy Cobham – Storm (from the album Crosswinds) 1974
Barry De Vorzon – Theme from The Warriors (from the soundtrack to The Warriors) 1979
Alice Cooper – Eighteen 1971
Cowboys International – Thrash 1979
Holger Czukay – Hollywood Symphony (from the album Movies) 1979
Sheila and B. Devotion – Spacer (12″ full length version) 1979
Brian Eno – No One Receiving (from the album Before and after Science) 1977
Brian Eno – Kings Lead Hat 1978
Brian Eno and Snatch – RAF (b-side to King's Lead Hat 7″) 1978
Eno, Moebius, Roedelius – Broken Head (from the album After the Heat) 1978
Duran Duran.- Girls on film 980Fad Gadget – Ricky's Hand 1980
Marianne Faithful – Broken English (12″ long version) 1979
Flying Lizards – Money (7″ edit) 1979
John Foxx – No One Driving (7″ remix) 1980
Peter Gabriel – Games without Frontiers (7″ edit) 1980
Nina Hagen Band – TV Glotzer (White Punks on Dope) 1979
Human League – Being Boiled (from the 7″ EP Holiday '80 and Travelogue album) 1980
Japan – Life in Tokyo (original 7″ short version) 1979
Jean Michel Jarre – Equinoxe 4 (French 12″ remix) 1978
Grace Jones – La Vie en Rose (7″ edit) 1977
Joy Division – Atmosphere 1980
Kraftwerk – Radioactivity (7″ edit) 1976
Kraftwerk – Trans Europe Express (7″ edit) 1977
Kraftwerk – The Robots (original 7″ edit) 1978
Kraftwerk – Das Model 1978
La Düsseldorf – La Düsseldorf (from the album La Düsseldorf) 1976
La Düsseldorf – Geld (from the album Viva) 1978
Landscape – U2XME1X2MUCH 1977
Landscape – European Man (7″ version) 1980
Thomas Leer and Robert Rental – Day Breaks, Night Heals (from the album The Bridge) 1979
Lori and the Chameleons – Touch 1979
M – M Factor (UK version, b-side to Pop Muzik 7″) 1979
Magazine – Touch and Go 1978
Mahler – Adagio from the 5th Symphony (from the soundtrack Death in Venice) 1971
Patrick D. Martin – I Like 'Lectric Motors 1979
Giorgio Moroder – The Chase (12″ full length version) 1978
Ennio Morricone – 60 Seconds to What (La Resa Dei Conti) (from the soundtrack For a Few Dollars More) 1964
Mott the Hoople – All the Young Dudes 1972
Neu! – E-Musik (from the album Neu! '75) 1975
The Normal – Warm Leatherette (b-side to T.V.O.D. 7″) 1978
Gary Numan & Tubeway Army – Down in the Park 1978
Gary Numan – Cars 1979
OMD – Electricity (7″ re-recorded version) 1979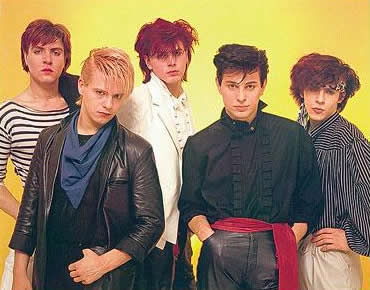 Iggy Pop – The Passenger (from the album Lust for Life) 1977
Iggy Pop – Nightclubbing (from the album The Idiot) 1977
The Psychedelic Furs – Sister Europe 1980
Lou Reed – Perfect Day 1972
Lou Reed – Vicious 1972
Lou Reed – Walk on the Wild Side (unedited album version) 1972
Rinder and Lewis – Willie and the Hand Jive 1979
Rockets – Space Rock (12″ full length version) 1977
Michael Rother – Zyklodrom (from the album Flammende Herzen) 1977
Roxy Music – Do the Strand 1973
Roxy Music – Trash 1979
Roxy Music – Dance Away 1979
Roxy Music – Angel Eyes (7″ remix) 1979
Shock – R.E.R.B. (b-side to Angel Face 7″) 1980
Simple Minds – Changeling (original 7″ version) 1980
Simple Minds – I Travel (7″ edit) 1980
Siouxsie and the Banshees – Hong Kong Garden 1978
Sister Sledge – Lost In Music 1979
Space – Magic Fly 1977
Space – Carry On, Turn Me On (from the album Magic Fly) 1977
Spandau Ballet – To Cut a Long Story Short (12″ extended version) 1980
Sparks – Number 1 Song in Heaven (7″ edit) 1979
Donna Summer – I Feel Love (7″ edit) 1977
Talking Heads – Psycho Killer 1977
Television – Little Johnny Jewel (Part 1 – 7″ version) 1975
Television – Marque Moon (album version) 1977
Telex – Moskow Diskow (12″ Maxi version, French vocal) 1979
Throbbing Gristle – Hot on the Heels of Love (from the deceptively named album 20 Jazz Funk Greats) 1979
Harry Thumann – Underwater (12″ version) 1979
Ultravox – Hiroshima Mon Amour (re-recording from the album Ha! Ha! Ha!) 1977
Ultravox – Slow Motion 1978
Ultravox – Dislocation 1978
Ultravox – Quiet Men (12″ full length version) 1978
Ultravox – Sleepwalk 1980
Vangelis – Pulstar 1976
The Velvet Underground – I'm Waiting for the Man 1973
Vice Versa – New Girls Neutrons (from the 7″ EP 4 Music) 1979
Visage – Tar (original 7″ mix) 1979
Visage – Frequency 7 (original version, b-side to Tar 7″) 1979
Visage – Fade to Grey (12″ extended version) 1980
Jeff Wayne – Eve of the War (7″ edit) 1978
Wire – I am the Fly 1978
Gina X – No GDM (7″ edit) 1979
Yello – Bimbo 1979
Yello – I.T. Splash (full length Swiss 7″ version) 1979
Yellow Magic Orchestra – Computer Game (Theme from The Invaders) 1979
Yellow Magic Orchestra – Behind the Mask 1980