Tan solo dos días después de la muerte del legendario fundador de Stax Records, Jim Stewart, el sello y Craft Recordings han anunciado el lanzamiento de una serie de ediciones que rinden homenaje al icónico concierto benéfico Wattstax de 1972 que tuvo lugar en el Los Angeles Memorial Coliseum.
Las enormes cajas "Soul'd Out: The Complete Wattstax Collection" y "Wattstax: The Complete Concert", saldrán a la venta el 24 de febrero.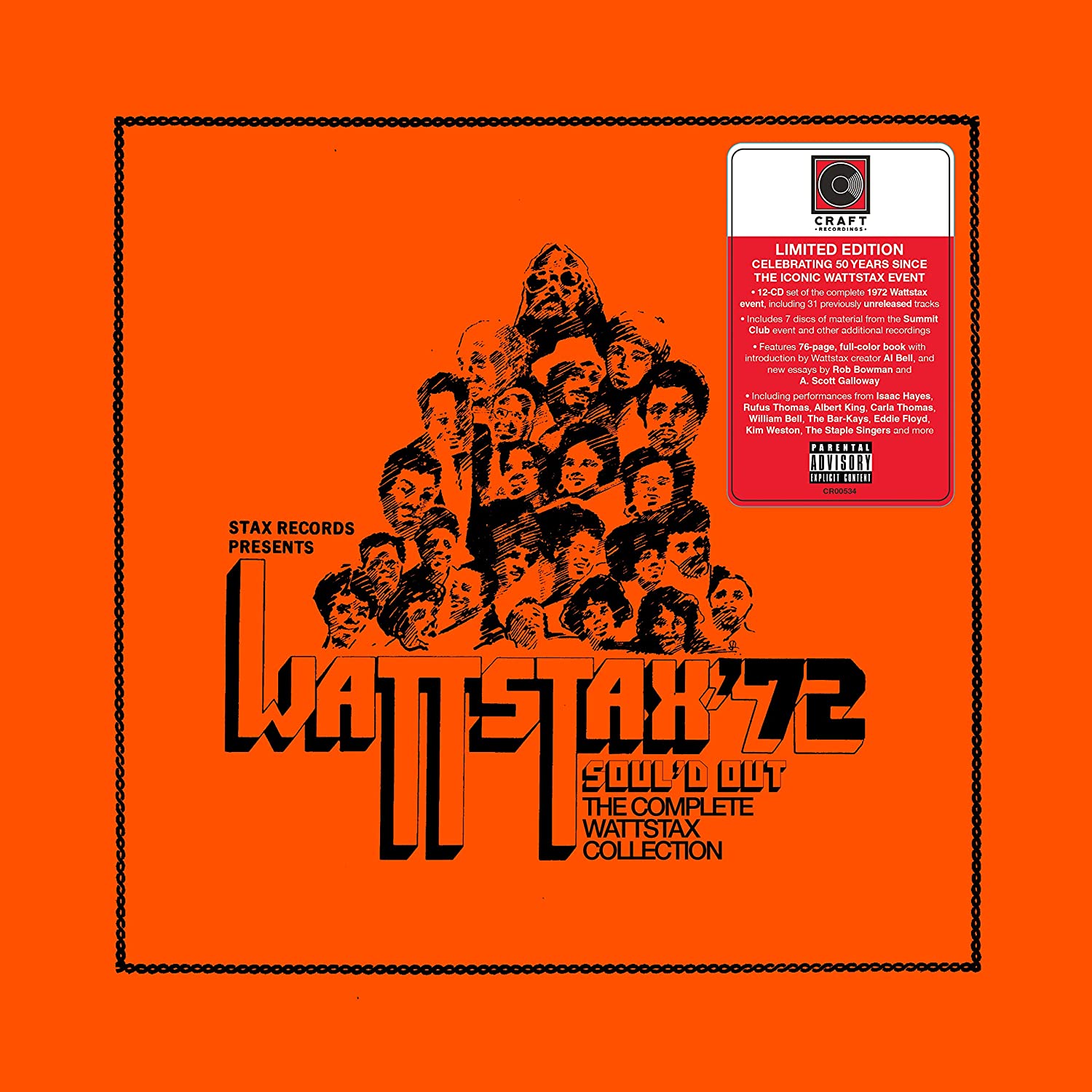 Del comunicado del 7 de diciembre:
"Creado en conjunto con el Watts Summer Festival anual para conmemorar el séptimo aniversario del levantamiento de Watts en Los Ángeles, el concierto benéfico Wattstax del 20 de agosto de 1972 contó con la asistencia de más de 100,000 personas. Contó con actuaciones de los artistas más populares de Stax Records de la época, incluidos, entre otros, Isaac Hayes, The Staple Singers, Rufus Thomas, Carla Thomas y The Bar-Kays. Estos lanzamientos son las primeras colecciones de audio completas de lo que el creador de Wattstax y entonces presidente de Stax Records, Al Bell, llama la 'celebración más jubilosa de la música, la cultura y los valores afroamericanos en la historia de Estados Unidos'".
"Soul'd Out: The Complete Wattstax Collection" es una impresionante caja de 12 CDs que presenta el concierto completo de L.A. Memorial Coliseum de 1972 más grabaciones del Summit Club, incluidas 31 pistas inéditas. Estas grabaciones se encuentran en un folio con un libro a todo color de 76 páginas que presenta una introducción de Bell y nuevos ensayos de Rob Bowman y A. Scott Galloway. Una versión inédita del himno icónico del soul funk "Theme From Shaft" de Isaac Hayes de su set principal en Wattstax ha sido lanzada como adelanto.
"Wattstax: The Complete Concert" incluye el concierto completo del L.A. Memorial Coliseum y está disponible en formatos de 6 CDs y 10 LPs. Además de las actuaciones musicales, presenta todos los discursos y otras bromas del evento, incluido el MC del evento, el discurso "I Am Somebody" del reverendo Jesse Jackson, al que a menudo se hace referencia.
Ambas ediciones incluyen un libro a todo color con una introducción del creador de Wattstax, Al Bell, y ensayos de Rob Bowman y A. Scott Galloway.
Además va a ser publicado el CD individual "The Best of Wattstax", que reúne una selección cuidadosamente seleccionada de 20 de los mejores temas del concierto y sirve como una excelente introducción a lo que supuso y representó.
Recientemente recuperadas de las cintas analógicas originales, las reediciones de los dos álbumes de la BSO "Wattstax: The Living Word" y "The Living Word: Wattstax 2", que incluyen lo más destacado del concierto y el documental posterior, también se reeditarán en formatos de 2 LPs en la misma fecha.
Este es el tráiler y los tracklists de las dos grandes cajas.
Soul'd Out: The Complete Wattstax Collection 12-CD Tracklist:
DISC 1
Dale Warren & The Wattstax '72 Orchestra – Salvation Symphony
Kim Weston – The Star Spangled Banner*
Tommy Jacquette & Jesse Jackson – Opening announcements
Kim Weston – Lift Every Voice and Sing
Melvin Van Peebles – We're here to consecrate, not desecrate
The Staple Singers – Heavy Makes You Happy (Sha-Na-Boom-Boom)
The Staple Singers – Are You Sure
The Staple Singers – I Like the Things About Me
The Staple Singers – Respect Yourself
The Staple Singers – I'll Take You There
DISC 2
Tommy Jacquette & Richard Roundtree – Wattstax Day proclamation
Jimmy Jones – Somebody Bigger Than You and I
Louise McCord – Better Get a Move On
Deborah Manning – Precious Lord Take My Hand
Eric Mercury – I Shall Not Be Moved*
Freddie Robinson – At the Drive-In*
Lee Sain – Them Hot Pants
Ernie Hines – What Would I Do*
Little Sonny – Wade in the Water
William Bell – I Forgot to Be Your Lover
The Newcomers – Pin the Tail on the Donkey
Eddie Floyd – Knock on Wood
The Temprees – Explain It to Her Mama
Frederick Knight – I've Been Lonely for So Long
The Golden 13 – Old Time Religion
William Bell – Al Bell Award presentation
The Rance Allen Group – Lying on the Truth
The Rance Allen Group – Up Above My Head
DISC 3
William Bell – David Porter introduction
The David Porter Show – Introduction
David Porter – Ain't That Loving You (For More Reasons Than One)
David Porter – Can't See You When I Want To
David Porter – Reach Out and Touch (Somebody's Hand)
William Bell – The Bar-Kays introduction
The Bar-Kays – Son of Shaft/Feel It
The Bar-Kays – In the Hole
The Bar-Kays – I Can't Turn You Loose
William Bell – Tommy Tate introduction
Tommy Tate – I Remember*
William Bell – Please move back to the stands
Tommy Tate – Help Me Love*
Tommy Tate – School of Life*
DISC 4
William Bell & John Kasandra – Carla Thomas introduction
Carla Thomas – Pick Up the Pieces
Carla Thomas – I Like What You're Doing (To Me)
Carla Thomas – B-A-B-Y
Carla Thomas – Gee Whiz
Carla Thomas – I Have a God Who Loves
John KaSandra – Albert King introduction
Albert King – Match Box Blues
Albert King – Got to Be Some Changes Made
Albert King – I'll Play the Blues for You
Albert King – Killing Floor
Albert King – Angel of Mercy
John KaSandra – Rufus Thomas introduction
John KaSandra & Rufus Thomas – Rufus Thomas entrance
Rufus Thomas – The Breakdown
John KaSandra & Rufus Thomas – Kindly go back to your seats
DISC 5
Rufus Thomas – Do the Funky Chicken
Rufus Thomas – Do the Funky Penguin
Jesse Jackson – I am, somebody
The Soul Children – I Don't Know What This World Is Coming To
The Soul Children – Hearsay
John KaSandra, Fred Williamson & Jesse Jackson – Let us stand and raise our fists together
Billy Eckstine – If I Can Help Somebody*
Billy Eckstine – There is a curfew here
DISC 6
Jesse Jackson – Isaac Hayes introduction
Isaac Hayes – Theme From Shaft (Version 1) *
Isaac Hayes – Theme From Shaft (Version 2)
Isaac Hayes – Soulsville
Isaac Hayes – Never Can Say Goodbye
Isaac Hayes – Part-Time Love*
Isaac Hayes – Your Love Is So Doggone Good
Isaac Hayes – Ain't No Sunshine/Lonely Avenue
Isaac Hayes – I Stand Accused
Jesse Jackson – Let everybody stand and join hands
Jimmy Jones – If I Had a Hammer
DISC 7: LIVE AT THE SUMMIT CLUB (September 23, 1972)
Rufus Thomas – Rufus Thomas introduction*
Rufus Thomas – Comedy Set*
Rufus Thomas – Night Time Is the Right Time*
DISC 8: LIVE AT THE SUMMIT CLUB (September 23, 1972)
Rufus Thomas – Johnnie Taylor introduction
Johnnie Taylor – Take Care of Your Homework (Set 1)
Johnnie Taylor – Little Bluebird (Set 1)
Johnnie Taylor – Steal Away (Set 1)
Johnnie Taylor – I Don't Wanna Lose You (Set 1)
Johnnie Taylor – Jody's Got Your Girl and Gone (Set 1) *
Johnnie Taylor – Who's Making Love (Set 2)
Johnnie Taylor – Hello Sundown (Set 2)
Johnnie Taylor – Steal Away (Set 2)
Johnnie Taylor – Stop Doggin' Me (Set 2)
Johnnie Taylor – Jody's Got Your Girl and Gone (Set 2)
DISC 9: LIVE AT THE SUMMIT CLUB (September 29, 1972)
Sons Of Slum – Think (About It) *
Sons Of Slum – Respect*
Sons Of Slum – The Man*
Sons Of Slum – Papa Was a Rollin' Stone/Dance to the Music/Music Lover/I Want to Take You Higher*
The Emotions – So I Can Love You
The Emotions – Blind Alley*
The Emotions – Introductions
The Emotions – Show Me How
The Emotions – When Tomorrow Comes*
The Emotions – I Could Never Be Happy*
DISC 10: LIVE AT THE SUMMIT CLUB (October 4, 1972)
Little Milton – Open the Door to Your Heart
Little Milton – Let Me Down Easy
Little Milton – Grits Ain't Groceries (All Around the World)
Little Milton – Blind Man
Little Milton – I Can't Quit You Baby
Little Milton – That's What Love Will Make You Do
Little Milton – Walking the Back Streets and Crying
DISC 11: LIVE AT THE SUMMIT CLUB (October 4, 1972)
Mel & Tim – Introduction*
Mel & Tim – Warm It Up*
Mel & Tim – Just My Imagination (Running Away With Me) *
Mel & Tim – Groovy Situation*
Mel & Tim – Good Guys Only Win in the Movies*
Mel & Tim – Backfield in Motion/Starting All Over Again*
Mel & Tim – Friendship Train*
DISC 12: ADDITIONAL RECORDINGS
The Emotions – Peace Be Still (Rehearsal)*
The Emotions – Peace Be Still (Take 1)*
The Emotions – Peace Be Still (Take 2)
Isaac Hayes – Rolling Down a Mountainside
Isaac Hayes – Rolling Down a Mountainside (Alternate Version) *
The Staple Singers – Oh La De Da
Eddie Floyd – Lay Your Loving on Me
The Dramatics – Whatcha See Is Whatcha Get
Mel & Tim – I May Not Be What You Want
Richard Pryor – Saturday Night/Blue Note, Backroom
Richard Pryor – Arrest/Line-Up
Richard Pryor – Niggers
Richard Pryor – Negroes
Richard Pryor – Handshake
Richard Pryor – Wino Get a Job
* = Previously Unreleased
Wattstax: The Complete Concert 6-CD Tracklist
DISC 1
1. Dale Warren & The Wattstax '72 Orchestra – Salvation Symphony
2. Kim Weston – The Star Spangled Banner*
3. Tommy Jacquette & Jesse Jackson – Opening announcements
4. Kim Weston – Lift Every Voice and Sing
5. Melvin Van Peebles – We're here to consecrate, not desecrate
6. The Staple Singers – Heavy Makes You Happy (Sha-Na-Boom-Boom)
7. The Staple Singers – Are You Sure
8. The Staple Singers – I Like the Things About Me
9. The Staple Singers – Respect Yourself
10. The Staple Singers – I'll Take You There
DISC 2
1. Tommy Jacquette & Richard Roundtree – Wattstax Day proclamation
2. Jimmy Jones – Somebody Bigger Than You and I
3. Louise McCord – Better Get a Move On
4. Deborah Manning – Precious Lord Take My Hand
5. Eric Mercury – I Shall Not Be Moved*
6. Freddie Robinson – At the Drive-In*
7. Lee Sain – Them Hot Pants
8. Ernie Hines – What Would I Do*
9. Little Sonny – Wade in the Water
10. William Bell – I Forgot to Be Your Lover
11. The Newcomers – Pin the Tail on the Donkey
12. Eddie Floyd – Knock on Wood
13. The Temprees – Explain It to Her Mama
14. Frederick Knight – I've Been Lonely for So Long
15. The Golden 13 – Old Time Religion
16. William Bell – Al Bell Award presentation
17. The Rance Allen Group – Lying on the Truth
18. The Rance Allen Group – Up Above My Head
DISC 3
1. William Bell – David Porter introduction
2. The David Porter Show – Introduction
3. David Porter – Ain't That Loving You (For More Reasons Than One)
4. David Porter – Can't See You When I Want To
5. David Porter – Reach Out and Touch (Somebody's Hand)
6. William Bell – The Bar-Kays introduction
7. The Bar-Kays – Son of Shaft/Feel It
8. The Bar-Kays – In the Hole
9. The Bar-Kays – I Can't Turn You Loose
10. William Bell – Tommy Tate introduction
11. Tommy Tate – I Remember*
12. William Bell – Please move back to the stands
13. Tommy Tate – Help Me Love*
14. Tommy Tate – School of Life*
DISC 4
1. William Bell & John Kasandra – Carla Thomas introduction
2. Carla Thomas – Pick Up the Pieces
3. Carla Thomas – I Like What You're Doing (To Me)
4. Carla Thomas – B-A-B-Y
5. Carla Thomas – Gee Whiz
6. Carla Thomas – I Have a God Who Loves
7. John KaSandra – Albert King introduction
8. Albert King – Match Box Blues
9. Albert King – Got to Be Some Changes Made
10. Albert King – I'll Play the Blues for You
11. Albert King – Killing Floor
12. Albert King – Angel of Mercy
13. John KaSandra – Rufus Thomas introduction
14. John KaSandra & Rufus Thomas – Rufus Thomas entrance
15. Rufus Thomas – The Breakdown
16. John KaSandra & Rufus Thomas – Kindly go back to your seats
DISC 5
1. Rufus Thomas – Do the Funky Chicken
2. Rufus Thomas – Do the Funky Penguin
3. Jesse Jackson – I am, somebody
4. The Soul Children – I Don't Know What This World Is Coming To
5. The Soul Children – Hearsay
6. John KaSandra, Fred Williamson & Jesse Jackson – Let us stand and raise our fists together
7. Billy Eckstine – If I Can Help Somebody*
8. Billy Eckstine – There is a curfew here
DISC 6
1. Jesse Jackson – Isaac Hayes introduction
2. Isaac Hayes – Theme From Shaft (Version 1)*
3. Isaac Hayes – Theme From Shaft (Version 2)
4. Isaac Hayes – Soulsville
5. Isaac Hayes – Never Can Say Goodbye
6. Isaac Hayes – Part-Time Love
7. Isaac Hayes – Your Love Is So Doggone Good
8. Isaac Hayes – Ain't No Sunshine/Lonely Avenue
9. Isaac Hayes – I Stand Accused
10. Jesse Jackson – Let everybody stand and join hands
11. Jimmy Jones – If I Had a Hammer
* = Previously Unreleased