La gran bajista de sesión Carol Kaye, una de las más prolíficas y más escuchadas de la historia, una mujer que ha tocado en aproximadamente 10.000 grabaciones a lo largo de una trayectoria que abarca más de 50 años.
Beach Boys: recomendaciones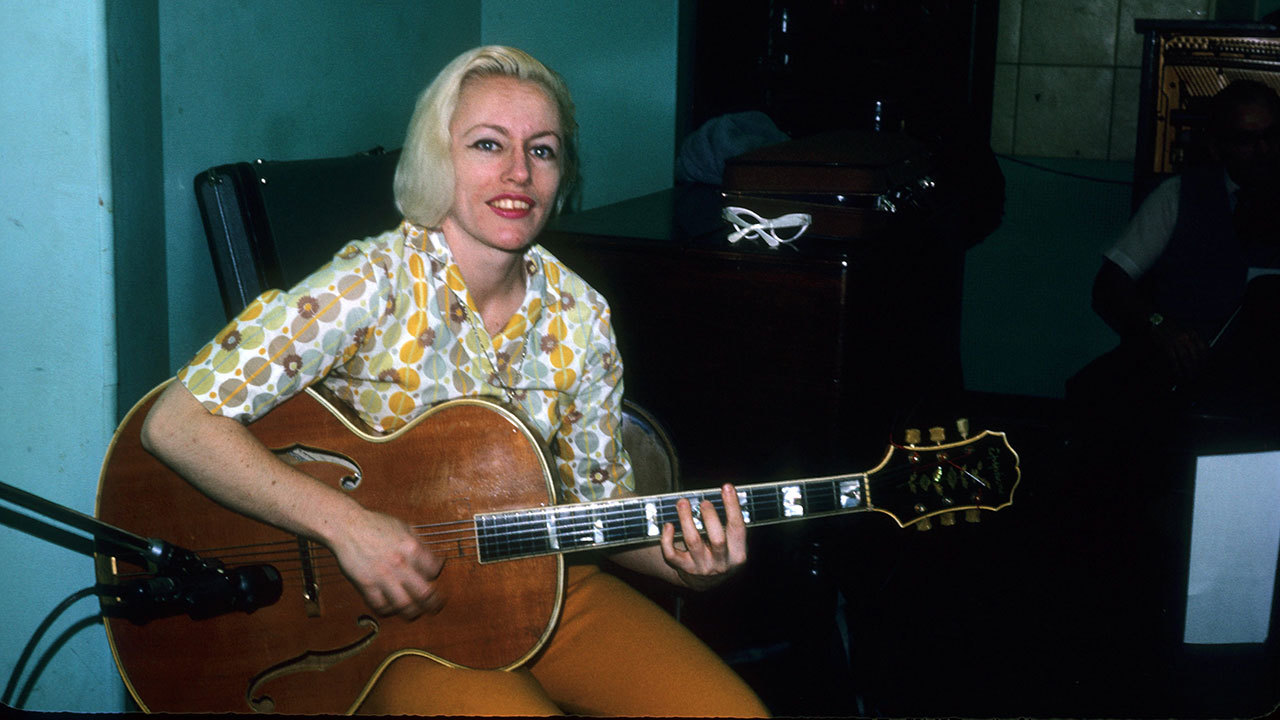 Fue parte de la celebrada Wrecking Crew que utilizó en sus discos Phil Spector. Un colectivo de músicos de sesión de Los Angeles que incluyó a excelentes profesionales como Hal Blaine, Leon Russell, Sonny Bono o Glen Campbell, entre muchos otros. Ahí estaba Carol Kaye, en los Gold Star Studios, tocando no solo el bajo sino en un principio la guitarra eléctrica – comenzó tocando la acústica en "La Bamba" de Richie Valens– que abandonó porque se dio cuenta de que estaba más cómoda y se sentía mejor tocando el bajo.
Spector es sólo la punta del iceberg Kaye, que además fue la bajista de los discos de mitad de los 60´s de los Beach Boys, "Pet Sounds" incluído, y también en grabaciones de cientos de artistas como Elvis, Nancy Sinatra, Paul Revere, The Righteous Brothers, Lalo Schifrin, Quincy Jones, Simon & Garfunkel, Monkees y muchos otros
Hasta en canciones de Motown, en sesiones de Stevie Wonder, The Supremes, The Temptations o the Four Tops. Incluso en "Freak Out" de Frank Zappa.
¿Canciones?  Sloop John B, And The He Kissed Me, These Boots Are Made For Walkin', I Don´t Need No Doctor, You Can´t Hurry Love, I´m a Believer, Wichita Lineman, A Natural Man, Inadian Reservation, This Diamond Ring y un larguísimo etcétera más  (ver el increíble listado de temas en los que ha tocado más abajo).
Además no sólo ha tocado pop o rock, también su bajo se puede oír en muchas grabaciones de jazz y en bandas sonoras de películas y series de TV como The Streets of San Francisco, Mission: Impossible, M * A * S * H y Kojak.
Más no se puede hacer, increíble, EXTRAORDINARIA Carol Kaye.
SOME RECORD HITS:

Whipped Cream – Herb Alpert
Spanish Eyes – Al Martino
Good Vibrations, Help Me Rhonda, Sloop John B, I Get Around, Wouldn't It Be Nice (dano), Calif. Girls, God Only Knows, Pet Sounds lp, Heroes & Villains, Caroline No, Surf's Up, Child Is The Father Of The Man, Do You Like Worms?, Smile lp, Cabinessence, Fire sessions, I Was Made To Love Her, Let Him Run Wild – Beach Boys
Little Green Apples, Hickory Hollar – O.C. Smith
Goin' Out Of My Head/Can't Take my Eyes Off Of You medley, Hurt So Bad, Shangrila, When I Fall in Love, More, Theme from Summer Place, etc. – Lettermen
Something Stupid – Frank & Nancy Sinatra
Boots, Sugar Town, You Only Live Twice theme, etc. – Nancy Sinatra
Feelin' Alright – Joe Cocker
The Way We Were – Barbra Streisand
Tell Her You Love Her, The World We Knew (OD dano fuzz on "World"), How Do You Keep The Music Playing, etc. – Frank Sinatra
Hold Me Thrill Me etc. – Mel Carter
Godfather Theme, Love Story, Can't Take My Eyes Off Of You, etc. – Andy Williams
In The Heat Of The Night, I Don't Need No Doctor, America The Beautiful, Eleanor Rigby, I Chose To Sing The Blues, Here We Go Again, Don't Change On Me, Feel So Bad, Understanding etc. – Ray Charles
Romeo & Juliet Theme (A Time For Love), Willow Weep For Me, Godfather Theme, others & Doc Severinson lp etc. – Henry Mancini
Mercy Mercy Mercy etc. – Buckinghams
Indian Reservation etc. – Paul Revere & Raiders
Natural Man, Love Is A Hurtin' Thing, Unforgettable, Your Good Thing etc. – Lou Rawls
John Gummoe's Rhythm Of The Rain – Cascades
Song Of Innocence – David Axelrod I Was Made To Love Her – Stevie Wonder
What'd I Say, A Little Less Conversation, Suspicious Minds etc. – Elvis Presley (this cut is claimed by 4 others)
Bless The Beasts And The Children – Perry Botkin
Little GTO, Go Little Honda – Hondels
Candy Man, Have A Little Talk, Mr. Bojangles, Legend In My Time, I'm Not Anyone – Sammy Davis Jr.
Shaft Theme – movie OD MGM w/J.J.Johnson (credited on sheet music)
You Gave Me A Mountain, To Each His Own etc. – Frankie Laine
Games People Play, Happy Together, Comin' Home etc. – Mel Torme
Wichita Lineman, Galveston, etc. – Glen Campbell
Someday We'll Be together Again, Ain't No Mountain High Enough – Diana Ross (w/Temps, cut 1968 RCA, Paul Humphrey on drums released 1970, you hear my improvising on this after my music fell down on take)
If I Could Build My Whole World Around You, Ain't Nothin' But The Real Thing – Marvin Gaye & Tami Terrell (Steiner's studio – LA)
Don't Pull Your Love Out On Me baby – Hamilton, Joe Franks & Reynolds (ABC Paramount OD)
It Must Be Him etc. – Vickie Carr
12th Of Never, Alone Again, Memories, etc. – Johnny Mathis
Tiny Bubbles etc. – Don Ho
When I Die – Motherlode (Toronto)
Batman Theme & others – Marketts
I'm A Believer, Last Train To Clarksville & others – Monkees
Homeward Bound, I Am A Rock, Scarborough Fair – Simon & Garfunkel
Call Me etc. – Chris Montez
Straight Life, Honey etc. – Bobby Goldsboro
River Deep, Mountain High – Tina Turner
No Matter What Shape Your Stomach's In – T-Bones
This Diamond Ring, Just My Style, etc. – Gary Lewis and Playboys
Soul & Inspiration – Righteous Bros.
Elusive Butterfly – Bob Lind
Hikky Burr – Bill Cosby TV Theme/Quincy Jones (TV and single) "Livin' It Up" lp – Jimmy Smith
Chump Change – Quincy Jones
Red Roses For A Blue Lady etc. – Vic Dana
Up A Lazy River (rock part) etc. – Bobby Darin
It's A Small World – Mike Curb & Congregation (at Disneyworld too)
Light My Fire – Doors (listed in book)
In Crowd, Going To The Gogo, etc. (dano, el. bass) – Dobie Gray
Bonnie Jean – Ed Ames
Love Child, Baby Love, Stop In The Name Of Love, Back In My Arms Again, You Can't Hurry Love, My World Is Empty Without You, Reflections, Love Is Here And Now You're Gone, You're All I Need To Get By… Supremes
GIT On Broadway TV Show – Diana Ross/Temptations cut 1969 NBC, Al Lapin contractor
Come Together – Count Basie
I Can't Help Myself, Bernadette etc. – 4 Tops
Peace Of Mind, Out Of This World – Nancy Wilson
Willow Weep For Me – Chad & Jeremy
This Is My Song – Pet Clarke
Joe Williams Live lp
Big Man lp – Cannonball Adderly
A Time For Love – Tony Bennett
Northern Windows lp – Hampton Hawes Trio
Get Ready, I Second That Emotion – Temptations
Doo Ron Ron – Crystals
Count Me In etc. – Bobby Vee
Yellow Balloon – Gary Zekeley
Baby The Rain Must Fall – Glenn Yarborough
Midnight Confessions, etc. – Grass Roots
Home Of The Brave – Jody Miller
David Axlerod produced lps
You Made Me So Very Happy – Brenda Holloway
Sixteen Tons (60s recut heard now on radio, others) – Tenn. Ernie Ford
Alone Again Or, Dailey Planet – Love
Bang Bang, Gypsies, Tramps and Thieves – Cher
Winter Wonderland – Darlene Love
Expected to Fly – Buffalo Springfield
The Summer Wind – Wayne Newton
Universal Jones Vol. I – Gene McDaniels
Do I Love You? – Ronnie Spector & The Ronettes
Fastman Raiderman – Frank Black
Frummenn – The Original Studmenn (VIP Iceland group)
Rhythm Of The Rain – John Gummoe and Cascades
I've Got Everything I Need – Gerald & Nancy Ray
Endless Summer CD, Beach Boys
Spotlight On Bobby Darin, Bobby Darin
16 Most Requested Songs, Robert Goulet
Greatest Hits Vols. 1 & 2, Billy Joel
The Very Best of Frank Sinatra
The Hit Years, Frank & Nancy Sinatra
Ballads Blues & Big Bands, Nancy Wilson
All Time Greatest Hits, Barry White
How Can You Mend a Broken Heart – Roger Williams
Do I Love You – Frank Wilson Motown Soul
1960s Love Unlimited Orchestra – Barry White,
Urizen – Dave Axelrdod
Kaye's sampled bass lines on:
Puffin on a Cloud – Beatnuts
A Day at The Races – Jurassic 5
Man And Boy – Bill Withers/Quincy Jones
Midnight Cowboy – Percy Faith
"The Good Life" – Bobby Darin
"Our Town" – Frank Sinatra
Many other hit recordings with: April & Nino, Spiral Staircase, Beach Boys, Lou Rawls, Association, Del Shannon, Bobby Vee, Gary Puckett & Union Gap, Monkees, First Edition, We 3, Dino-Desi-Billy, Dick & DeeDee, Association, Soulstrings, Hollywood Strings, PF Sloan, Van Dyke Parkes, Brenda Holloway, Parris Sisters, Judd & Lisa, Blossoms, New Seekers, Wayne Newton, Vic Dana, Timi Yuro, Deep 6, Harper's Bazaar, Gary Usher, Liverpool 5, Animals, Invinceables, Buckinghams, Young Americans, John Davidson, Mel Taylor, Quincy Jones, Rod McKuen, Harry Nilsson, Grass Roots, T-Bones, Bobby Paris, Doodletown Pipers, John Gary, Vogues, Hedge & Donna, Bobby Sherman, Isley Bros., Frankie Avalon, GoGos, Clydie King, Bobby Rydell, Peter & Gordon, Goodtime Singers, Billy Storm, Kenny Rogers, Buce & Terry, Bobby Sheen, Barbara McCair, Terry Melchior, Young Folk, Jericho Brown, Kim Weston, Al Kooper, Phil Spector prod's, Trombones Unlimited, Osmond Bros., Buckinghams, Michelle Lee, Monk Higgins, Robert Goulet, Judy Carne, Hugo Montenegro, Dody Stevens, Darlene Love, Ripchords, Jody Daniels, Lola Falana, Ralke Strings, Gilbert Becaud, 4 Preps, Fred Astair, Dorsey Burnett, Don Ellis, Ray Conniff, Nelson Riddle, Ian Whitcomb, Billy Strange, Oopie McKurn, Back Porch Majority, Ernie Andrews, Little Richard, Tony Martin, Billy May, Odetta, King Family, Stan Freberg, Tom & John Bahler, Jimmie Griffin, Annette Funicello, Gloria Lynne, Wilder Bros., John Cole, Willie John, Irma Thomas, Donna Loren, Randy Sparks, Tutti's Trombones, Frank Zappa, Beau Brummels, Jerry Vale, Claudine Longet, Sue Raney, Ella Fitzgerald, Bing Crosby, Vic Damone, Billy Eckstein, Buffalo Springfield, Eartha Kitt, Ann Margaret, Doris Day, Patti Page, Howard Roberts, Bill Medley, Dee Irvin, Johnny Otis, Coasters, Elmer Bernstein, Stevie Wonder, Bobby Adano, Honey Bees, Bonnie Guitar, Don Crawford, Stu Phillips, Joey Paige, Johnny Guitar Watson, Sims Twins, Baker Knight, Tyrone & Jerome, Fran Jeffries, Noel Harris, Meredith McCrea, Joey Paige, Barry Young, Piccolo Pupa, Jackie & Gayle, Johnny Ray, Liza Minelli, Peter & Gordon, Billy Preston, Joannie Sommers, Curtis Mayfield, Dean Martin, Rosemary Clooney, Eddie Arnold, Roger Miller, Dusty Springfield, Roger Williams, Shirley Bassey, Adam West, Neil Diamond, Kingston Trio, Lorne Greene, Kay Starr, Alan Copeland, Margaret Whiting, Jo Stafford, Richard Roundtree, Gene McDaniels, Don Ellis, Eddy Fisher, David Rose, Willie Bobo, George Burns, Four Freshmen, Electric Prunes, Bettye Swan, Robie Porter, Elvis Presley, Kelly Gordon, Bob Crosby, Paul Anka, Laurindo Almeida, Gogi Grant, Jerry Butler, Hollies, Mahalia Jackson, Reader's Digest, Charlie Wrights 110th St. Band, Mills Bros., Bud Shank, Gabor Szabor, Sally Fields, Pet Clarke, Duayne Eddy, Rudy Vallee, Brook Benton, Les Baxter, John Wayne, Mae West, Burt Bacharach, Carol Burnett, Dick Smothers, Johnny Burnett, Nellie Lutcher, Bobby Sands, Kip Tyler, Kim Fowley, Wynonna Carr, Toni Harper, Guy Mitchell, Modernaires, Soupy Sales, Louie Jordan, Ray Anthony, Jan & Dean, Damita Jo, Bishops, Chuck & Joe, Ray Conniff, Tommy Oliver, Sandy Nelson, Keely Smith, 5th Dimension, Peter-Paul-Mary, Marty Robbins, Peggy Lee, Johnny Ray, Margaret Whiting, Tommy Leonetti, Howard Roberts, Berl Davis, Patti Duke, Freddie Cannon, Fred Smith, Frank Ortega, Johnny Magnus, Al Martino, Mike Lloyd prods', Don Costa, J.J. Hohnson, Dee Irwin, Johnny Mann Singers, Billy Daniels, Lalo Shifrin, Tony Bruno, Arthur Prysock, Jimmie Rodgers, John Klemmer, Santo & Johnny, Jerry Vail, Ferrante & Teicher, Eddie Hodges, Hub Cap & Wheels, Honey Bees, Rosie Grier, Dymiktri Tiomkin, Fess Parker, Les Poupees De Paris, Tom Vaughn, Barry Young, C. C. Jones, Charles Cunard, Carroll Connors, Georgia Carr, Buckshots, Gary Bowman, Billy Mize, Bishops, Ken Clarke, Blood Bros., Marty Robbins, Dean Holly, Tigers, John Wayne, The Girlfriends, Jack Nitzchie, Jean King, Eddie Beal, Dallas Smith, Barbara McNair, Troy Donahue, Cookie Jackson, Peter Ford, Little Joe, Pete King, Eddie Hodges, Dynatones, Vince Edwards, Tammy Grimes, Little Joe, Sun Rays, Platters, Don Robertson, Keith Allison, Bonnie & Treasures, Percy Faith, Jimmie Lewis, Frankie Randall, Joe Reisman, Michel LeGrand, Tiny Tim, Andy Russell, Group Therapy, Morgana King, Kitty Lester, Marvelettees, Miracles, H.B. Barnum prod's, Esquival, Marketts, Hollywood Strings, Rouvan, Jody Miller, Leslie Gore, George Chikaris, Trombones Unlimited, Pat Boone, Hollyridge Singers, Jewel Akens, Bobby Sherman, Shacklefords, Barry Young, Gene Daniels, Gene Ammons, Della Reese, Stan Kenton, Don Ellis, Joe Pass, Janis Ian, Johnny Rivers, Cass Elliot, Hampton Hawes, Jimmy Smith, Tom Scott, Cannonball Adderly, Howlin' Wolf etc. and more.