KENDRICK LAMAR, GRAN TRIUNFADOR DE LOS GRAMMY 2016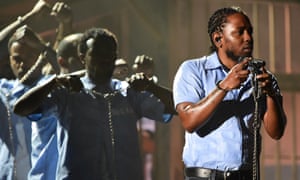 Los premios Grammy 2016 celebrados ayer en el Staples Center de Los Angeles tienen un nombre, y no es otro que Kendrick Lamar.
El rapero se llevó 2 premios a su nombre: mejor álbum rap y mejor actuación rap, y otros 3 en comandita con otros artistas:  mejor  mejor vídeo ("Bad Blood", con Taylor Swift), mejor canción rap ("Alright", con Kawan Prather, Sounwave y Pharrell Williams) y mejor colaboración cantada rap ('These Walls' con Bilal, Anna Wise, Thundercat).
Y no sólo eso, sino que su actuación fue la actuación de la noche. Tras dos apagadas horas iniciales de Grammy, Lamar salió a escena con un medley muy teatral y altamente politizado de tres canciones de su último disco, "To Pimp a Butterfly" (nominado en 11 categorías esta noche).
Una actuación con fuertes alusiones a la desigualdad racial, la identidad negra y la cárcel que puso al público a sus pies y que deja en entredicho al extraño espectáculo de Kanye West del fin de semana, y a la verbena Bowie de Lady Gaga de ayer en los Grammy.
Gaga hizo un medley de 10 canciones de Bowie tan sutil como un ladrillo. Como era de esperar un show pueril, hollywoodiense. Había montones de artistas que podían haber homenajeado mejor a David. ¿Qué pasa con Arcade Fire, Pixies, Placebo, Suede, TV On the Radio, Smashing Pumpkins o The Cure? Pues pasa que los organizadores del evento no han querido llevar a los verdaderos herederos de Bowie y han preferido un popurrí genérico, espectacular, pero con poca alma.
Pero no se engañen, la fuerza creativa e innovadora de la noche estuvo en manos de Kendrick Lamar, un artista que influyó a Bowie para su postrero, casi póstumo, "BlackStar". David Bowie estuvo ayer presente mucho más en Lamar que en Gaga.
Ed Sheeran se llevó el premio a la "canción del año" y el de la "mejor interpretación pop solista", y también salieron muy bien parados con dos premios respectivamente Alabama Shakes (alternativo), Taylor Swift (pop), Skrillex y Diplo (electrónica), The Weeknd y D´Angelo (R&B), Jason Isbell (roots) y Chris Stapleton en country.
Muse ganaron el premio al "mejor álbum rock" ("Drones") y, como se esperaba, "Amy" fue la ganadora en la categoría de mejor filme musical.
Lista completa de ganadores Grammy 2016:
Song of the Year: Ed Sheeran, "Thinking Out Loud"
Best Country Album: Chris Stapleton, Traveller
Best Rap Album: Kendrick Lamar, To Pimp a Butterfly
Best Pop Vocal Album: Taylor Swift, 1989
Best Instrumental Composition: Arturo O'Farrill, The Afro Latin Jazz Suite
Best Arrangement, Instrumental Or A Cappella: "Dance of the Sugar Plum Fairy"
Best Arrangement, Instruments And Vocals: Maria Schneider, "Sue (Or In A Season Of Crime)"
Best Recording Package: Still The King: Celebrating The Music Of Bob Wills And His Texas Playboys
Best Album Notes: Joni Mitchell, 'Love Has Many Faces: A Quartet, A Ballet, Waiting To Be Danced'
Best Boxed Or Special Limited Edition Package: The Rise & Fall Of Paramount Records, Volume Two (1928-32)
Best Historical Album: Bob Dylan. The Basement Tapes Complete: The Bootleg Series Vol. 11
Best Engineered Album, Non-Classical: Shawn Everett, Bob Ludwig, Sound & Color
Best Remixed Recording, Non-Classical: Dave Audé, "Uptown Funk (Dave Audé Remix)"
Best Surround Sound Album: James Guthrie, Joel Plante, Amused To Death
Best Contemporary Instrumental Album: Snarky Puppy, Metropole Orkest, Sylva
Best New Age Album: Paul Avgerinos, Grace
Best Improvised Jazz Solo: Christian McBride, "Cherokee"
Best Jazz Vocal Album: Cecile McLorin Salvent, For One To Love
Best Jazz Instrumental Album: John Scofield, Past Present
Best Large Jazz Ensemble Album: Maria Schneider Orchestra, The Thompson Fields
Best Latin Jazz Album: Eliane Elias, Made In Brazil
Best Reggae Album: Morgan Heritage, Strictly Roots
Best World Music Album: Angelique Kidjo, Sings
Best Children's Album: Tim Kubart, Home
Best Spoken Word Album: Jimmy Carter, A Full Life: Reflections at Ninety
Best Comedy Album: Louis CK,  Live At Madison Square Garden
Best Latin Pop Album: Ricky Martin, A Quien Quiera Escuchar (Deluxe Edition)
Best Regional Mexican Music Album: Los Tigres Del Norte, Realidades - Deluxe Edition
Best Tropical Latin Album: Ruben Blades with Roberto Delgado & Orchestra, Son De Panamá
Best American Roots Performance: Mavis Staples, See That My Grave Is Kept Clean'
Best American Roots Song: Jason Isbell,"24 Frames"
Best Americana Album: Jason Isbell, Something More Than Free
Best Bluegrass Album: The SteelDrivers, The Muscle Shoals Recordings
Best Blues Album: Buddy Guy, Born To Play Guitar
Best Regional Roots Music Album: Jon Cleary, Go Go Juice
Producer Of The Year, Classical: Judith Sherman
Best Opera Recording: Seiji Ozawa, Isabel Leonard, Dominic Fyfe, "Ravel: L'Enfant Et Les Sortilèges; Shéhérazade"
Best Choral Performance: Charles Bruffy, Phoenix Chorale, Kansas City Chorale, "Rachmaninoff: All-Night Vigil"
Best Chamber Music/Small Ensemble Performance: Eighth Blackbird, "Filament"
Best Classical Instrumental Solo: Augustin Hadelich, Ludovic Morlot, "Dutilleux: Violin Concerto, L'Arbre Des Songes"
Best Classical Solo Vocal Album: Joyce DiDonato, Antonio Pappano, Joyce & Tony - Live From Wigmore Hall
Best Contemporary Classical Composition: Stephen Paulus, "Paulus: Prayers & Remembrances"
Best Classical Solo Vocal Album: Joyce DiDonato, Antonio Pappano, Joyce & Tony - Live From Wigmore Hall
Best Compilation Soundtrack For Visual Media: Glen Campbell, Glen Campbell: I'll Be Me
Best Score Soundtrack For Visual Media: Antonio Sanchez, Birdman
Best Song Written For Visual Media: Common, Rhymefest, John Legend, "Glory"
Best Music Video: Taylor Swift, Kendrick Lamar, "Bad Blood"
Best Music Film: Amy
Best Gospel Performance/Song: Kirk Franklin, "Wanna Be Happy?"
Best Contemporary Christian Music Performance/Song: Francesca Battistelli, "Holy Spirit"
Best Gospel Album: Israel and Newbreed, Covered: Alive In Asia [Live]
Best Contemporary Christian Music Album: Toby Mac, This Is Not A Test
Best Country Solo Performance: Chris Stapleton, Traveller
Best Country Duo/Group Performance: Little Big Town, "Girl Crush"
Best Country Song: Hillary Lindsey, Lori McKenna, Liz Rose, "Girl Crush"
Best Dance Recording: Skrillex, Diplo and Justin Bieber - "Where Are Ü Now"
Best Dance/Electronic Album: Skrillex and Diplo, Skrillex And Diplo Present Jack Ü
Best R&B Performance: The Weeknd - "Earned It (Fifty Shades Of Grey)"
Best Traditional R&B Performance: Lalah Hathaway, "Little Ghetto Boy"
Best R&B Song: D'Angelo, Kendra Foster, "Really Love"
Best Urban Contemporary Album: The Weeknd, Beauty Behind The Madness
Best R&B Album: D'Angelo, Black Messiah
Best Metal Performance: Ghost, "Cirice"
Best Rock Song: Alabama Shakes, "Don't Wanna Fight"
Best Rock Album: Muse, Drones
Best Alternative Music Album: Alabama Shakes, Sound & Color
Best Rap Performance: Kendrick Lamar, "Alright"
Best Rap/Sung Collaboration: Kendrick Lamar featuring Bilal, Anna Wise, Thundercat, 'These Walls'
Best Rap Song: Kendrick Lamar, Kawan Prather, Sounwave, Pharrell Williams, "Alright"
Best Pop Solo Performance: Ed Sheeran, "Thinking Out Loud"
Best Pop Duo/Group Performance: Mark Ronson featuring Bruno Mars,"Uptown Funk"
Best Traditional Pop Vocal Album: Tony Bennett, Bill Charlap, The Silver Lining: The Songs Of Jerome Kern
Producer Of The Year, Non-Classical: Jeff Bhasker