JETHRO TULL RECUPERAN EN UNA CAJA DE LUJO SU «STORMWATCH»
Jethro Tull recuperan el último disco de su gran formación clásica, que van a reeditar en una lujosa caja de 4 CDs el próximo mes de octubre.

«Stormwatch» (septiembre de 1979) completó la famosa trilogía de folk-rock que la banda de Ian Anderson comenzó con «Songs from the Wood» en 1977 y continuó al año siguiente con «Heavy Horses». Entre medias quedó el poderosísimo doble en directo «Burstin´Out», probablemente el último gran momento de Jethro Tull, que en años sucesivos continuó existiendo dirigidos por su alma Anderson acompañado de su mano derecha, el guitarrista Martin Barre.

Disco de oro en los EE. UU., Stormwatch fue el último álbum en el que tocó la formación clásica de Jethro Tull, integrada por Ian Anderson, Martin Barre, John Glascock, John Evan, David (ahora Dee) Palmer y Barriemore Barlow.

Las sesiones de grabación para Stormwatch tuvieron lugar entre agosto de 1978 y julio de 1979. Es un disco de temática ecológica y marítima («North Sea Oil», «Flying Dutchman», etc). La banda grabó varias canciones que quedaron fuera del álbum porque no encajaban en esta temática. Muchos de ellas se recuperan en el segundo CD de esta caja, temas como «Man Of God», «Crossword», «Kelpie» y «The Lyricon Blues».
Stormwatch marcó el final de una era para Jethro Tull. Debido a su salud deteriorada, el bajista John Glascock perdió la mayoría de las sesiones del álbum y solo apareció en tres de sus canciones. Desgraciadamente, Glascock murió poco después de que el álbum fuera lanzado. Entonces, la formación clásica de Tull se deshizo tras la gira promocional del álbum, cuando Barlow, Evan y Palmer abandonaron el grupo.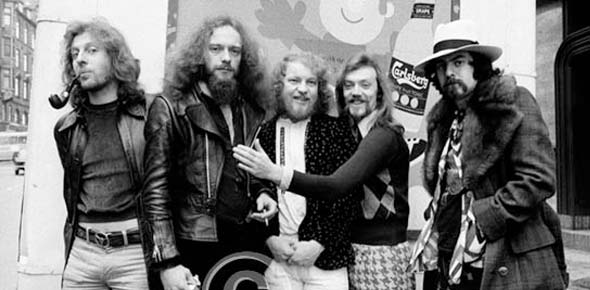 Para celebrar el 40 aniversario del álbum, Rhino lanzará STORMWATCH: 40 ° ANIVERSARIO FORCE 10 EDITION. Una nueva y lujosa edición compuesta por 4CDs y 2DVDs que estará disponible a partir del 18 de octubre.

La caja incluye:

– Álbum original y grabaciones de la época recientemente remezcladas por Steven Wilson.
– Concierto inédito, ofrecido en Congreßgebouw, Países Bajos, grabado en marzo de 1980.
– Álbum original y 13 grabaciones asociadas mezcladas con 5.1 DTS y AC3 Dolby Digital.
– Transferencia plana de la mezcla original de 1979 a 96/24 LPCM estéreo.
– 15 grabaciones inéditas mezcladas a 96/24 LPCM estéreo y cinco mezclas originales a 96/24 LPCM estéreo

Presentado en formato libro-disco, incluye una extensa historia del álbum, anotaciones pista por pista de Anderson y Palmer, y fotografías raras, entre muchas otras cosas.

Contenidos:
CD 1: Steven Wilson Remix of Original Album
1. North Sea Oil (Steven Wilson Stereo Remix) 2. Orion (Steven Wilson Stereo Remix) 3. Home (Steven Wilson Stereo Remix) 4. Dark Ages (Steven Wilson Stereo Remix) 5. Warm Sporran (Steven Wilson Stereo Remix) 6. Something's on the Move (Steven Wilson Stereo Remix) 7. Old Ghosts (Steven Wilson Stereo Remix) 8. Dun Ringill (Steven Wilson Stereo Remix) 9. Flying Dutchman (Steven Wilson Stereo Remix) 10. Elegy (Steven Wilson Stereo Remix)
CD 2: Associated Recordings
1. Crossword (Steven Wilson Stereo Remix) 2. Dark Ages (Early Version) [Steven Wilson Stereo Remix] 3. Kelpie (Steven Wilson Stereo Remix) 4. Dun Ringill (Early Version) [Steven Wilson Stereo Remix] 5. A Stitch in Time (Steven Wilson Stereo Remix) 6. A Single Man (Steven Wilson Stereo Remix) 7. Broadford Bazaar (Steven Wilson Stereo Remix) 8. King Henry's Madrigal (Steven Wilson Stereo Remix) 9. Orion (Full Version) [Steven Wilson Stereo Remix] 10. Urban Apocalypse (Steven Wilson Stereo Remix) 11. The Lyricon Blues (Steven Wilson Stereo Remix) 12. Man of God (Steven Wilson Stereo Remix) 13. Rock Instrumental (Unfinished Master) [Steven Wilson Stereo Remix] 14. Sweet Dream Fanfare (Steven Wilson Stereo Remix) 15. Sweet Dream (Live) (Steven Wilson Stereo Remix)
CD 3: Live in the Netherlands (March 16. 1980)
1. Prelude to a Storm (Live at Congreßgebouw, Den Haag, Netherlands, 3/16/1980) 2. Dark Ages (Live at Congreßgebouw, Den Haag, Netherlands, 3/16/1980) 3. Home (Live at Congreßgebouw, Den Haag, Netherlands, 3/16/1980) 4. Orion (Live at Congreßgebouw, Den Haag, Netherlands, 3/16/1980) 5. Dun Ringill (Live at Congreßgebouw, Den Haag, Netherlands, 3/16/1980) 6. Elegy (Live at Congreßgebouw, Den Haag, Netherlands, 3/16/1980) 7. Old Ghosts (Live at Congreßgebouw, Den Haag, Netherlands, 3/16/1980) 8. Something's on the Move (Live at Congreßgebouw, Den Haag, Netherlands, 3/16/1980) 9. Aqualung (Live at Congreßgebouw, Den Haag, Netherlands, 3/16/1980) 10. Peggy's Pub (Live at Congreßgebouw, Den Haag, Netherlands, 3/16/1980) 11. Jack-in-the-Green (Live at Congreßgebouw, Den Haag, Netherlands, 3/16/1980) 12. King Henry's Madrigal (Live at Congreßgebouw, Den Haag, Netherlands, 3/16/1980) 13. Heavy Horses (Live at Congreßgebouw, Den Haag, Netherlands, 3/16/1980)
CD 4: Live in the Netherlands (March 16. 1980)
1. Flute Solo (Live at Congreßgebouw, Den Haag, Netherlands, 3/16/1980) 2. Keyboard Duet (Live at Congreßgebouw, Den Haag, Netherlands, 3/16/1980) 3. Songs from the Wood (Live at Congreßgebouw, Den Haag, Netherlands, 3/16/1980) 4. Hunting Girl (Live at Congreßgebouw, Den Haag, Netherlands, 3/16/1980) 5. Jams O'Donnell's Jigs (Live at Congreßgebouw, Den Haag, Netherlands, 3/16/1980) 6. Thick as a Brick (Live at Congreßgebouw, Den Haag, Netherlands, 3/16/1980) 7. Too Old to Rock 'n' Roll: Too Young to Die! (Live at Congreßgebouw, Den Haag, Netherlands, 3/16/1980 8. Cross-Eyed Mary (Live at Congreßgebouw, Den Haag, Netherlands, 3/16/1980) 9. Guitar Solo (Live at Congreßgebouw, Den Haag, Netherlands, 3/16/1980) 10. Minstrel in the Gallery (Live at Congreßgebouw, Den Haag, Netherlands, 3/16/1980) 11. Locomotive Breath (Live at Congreßgebouw, Den Haag, Netherlands, 3/16/1980) 12. The Dambusters March (Live at Congreßgebouw, Den Haag, Netherlands, 3/16/1980)
DVD 1: Audio Only
1. North Sea Oil (Steven Wilson Remix) 2. Orion (Steven Wilson Remix) 3. Home (Steven Wilson Remix) 4. Dark Ages (Steven Wilson Remix) 5. Warm Sporran (Steven Wilson Remix) 6. Something's on the Move (Steven Wilson Remix) 7. Old Ghosts (Steven Wilson Remix) 8. Dun Ringill (Steven Wilson Remix) 9. Flying Dutchman (Steven Wilson Remix) 10. Elegy (Steven Wilson Remix) 11. North Sea Oil (Steven Wilson Stereo Remix) 12. Orion (Steven Wilson Stereo Remix) 13. Home (Steven Wilson Stereo Remix) 14. Dark Ages (Steven Wilson Stereo Remix) 15. Warm Sporran (Steven Wilson Stereo Remix) 16. Something's on the Move (Steven Wilson Stereo Remix) 17. Old Ghosts (Steven Wilson Stereo Remix) 18. Dun Ringill (Steven Wilson Stereo Remix) 19. Flying Dutchman (Steven Wilson Stereo Remix) 20. Elegy (Steven Wilson Stereo Remix) 21. North Sea Oil 22. Orion 23. Home (2019 Remix) [Dolby AC3 5.1] 24. Dark Ages (2019 Remix) [Dolby AC3 5.1] 25. Warm Sporran 26. Something's on the Move (2019 Remix) [Dolby AC3 5.1] 27. Old Ghosts 28. Dun Ringill 29. Flying Dutchman 30. Elegy (2019 Remix) [Dolby AC3 5.1]
DVD 2: Audio Only
1. Crossword (Steven Wilson Remix) 2. Dark Ages (Early Version) [Steven Wilson Remix] 3. Kelpie (Steven Wilson Remix) 4. Dun Ringill (Early Version) [Steven Wilson Remix] 5. A Stitch in Time (Steven Wilson Stereo Remix) 6. A Single Man (Steven Wilson Stereo Remix) 7. Broadford Bazaar (Steven Wilson Remix) 8. King Henry's Madrigal (Steven Wilson Remix) 9. Orion (Full Version) [Steven Wilson Remix] 10. Urban Apocalypse (Steven Wilson Remix) 11. The Lyricon Blues (Steven Wilson Remix) 12. Man of God (Steven Wilson Remix) 13. Rock Instrumental (Unfinished Master) [Steven Wilson Remix] 14. Crossword (Steven Wilson Stereo Remix) 15. Dark Ages (Early Version) [Steven Wilson Stereo Remix] 16. Kelpie (2019 Remix) [Dolby AC3 5.1] 17. Dun Ringill (Early Version) [2019 Remix] [Dolby AC3 5.1] 18. A Stitch in Time (Steven Wilson Stereo Remix) 19. A Single Man (2019 Remix) [Dolby AC3 5.1] 20. Broadford Bazaar (2019 Remix) [Dolby AC3 5.1] 21. King Henry's Madrigal (Steven Wilson Stereo Remix) 22. Orion (Full Version) [2019 Remix] [Dolby AC3 5.1] 23. Urban Apocalypse (2019 Remix) [Dolby AC3 5.1] 24. The Lyricon Blues (Steven Wilson Stereo Remix) 25. Man of God (Steven Wilson Stereo Remix) 26. Rock Instrumental (Unfinished Master) [Steven Wilson Stereo Remix] 27. Sweet Dream Fanfare (Steven Wilson Stereo Remix) 28. Sweet Dream (Live) [Steven Wilson Stereo Remix] 29. A Stitch in Time 30. King Henry's Madrigal 31. Sweet Dream Fanfare 32. Sweet Dream (Live) 33. A Stitch in Time (Single Edit)