Eric Clapton convocó una vez más a un impresionante elenco de titanes de las seis cuerdas para su quinto Festival de Guitarra Crossroads, que tuvo lugar el pasado año.
Celebrado en el American Airlines Center en Dallas, Texas, el festival , que duró  dos días recaudó fondos para el Crossroads Center en Antigua, el centro educativo y de tratamiento de la dependencia química que Clapton fundó en 1998.
Escucha Eric Clapton

en Amazon Music Unlimited (ad)
Después de una pausa de seis años, el festival regresó lleno de energía con las destacadas actuaciones del propio Clapton y los siguientes estrellas de la guitarra: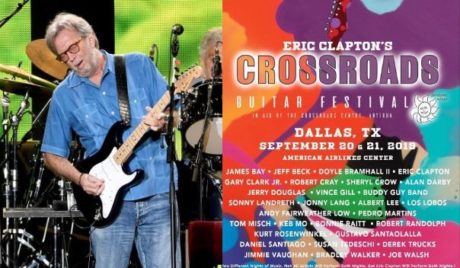 James Bay, Jeff Beck, Doyle Bramhall II, Gary Clark Jr., Robert Cray, Sheryl Crow, Andy Fairweather Low, Peter Frampton, Vince Gill, Buddy Guy , Sonny Landreth, Lianne La Havas, Los Lobos, John Mayer, Keb 'Mo', Bonnie Raitt, Robert Randolph, Tedeschi Trucks Band y Jimmie Vaughan, entre muchos otros.
Esta colección revive los mejores momentos de la asombrosa exhibición del virtuosismo de la guitarra con  espectaculares grabaciones de audio y vídeo. Ahora sale a la venta.
A lo largo del espectáculo, Clapton compartió el escenario con otros artistas para interpretar algunas de sus canciones más conocidas, incluyendo "Layla" con John Mayer, además de versiones acústicas de "Wonderful Tonight" y "Lay Down Sally" con Andy Fairweather Low.
Clapton también rindió homenaje a su difunto amigo George Harrison con una ardiente interpretación de "While My Guitar Gently Weeps" junto a Peter Frampton.
El cartel esta edición de Crossroads ofreció una impresionante mezcla de artistas, con leyendas como Bonnie Raitt, James Burton, Robert Cray y Jeff Beck (cuya destacada versión de "Caroline, No" de The Beach Boys fue un punto culminante en el festival); estrellas contemporáneas;

Naturalmente, las colaboraciones en el escenario proporcionaron algunos de los momentos más especiales, como la versión de "I Wanna Be Your Dog" de The Stooges por Doyle Bramhall II, Susan Tedeschi, Derek Trucks, Jim Keltner y el actor Bill Murray (M.C. del festival); Buddy Guy y Johnny Lang rompiendo el clásico "Cognac" de Guy; y una versión del éxito de Merle Haggard "Tonight The Bottle Let Me Down" de Vince Gill, Albert Lee, Bradley Walker y el maestro de dobro Jerry Douglas.
Para el bis, Clapton regresó al escenario para dirigir las actuaciones grupales de "Purple Rain" de Prince y "High Time We Went" de Joe Cocker.
TRACKLISTINGS:
ERIC CLAPTON'S CROSSROADS GUITAR FESTIVAL 2019 Track Listing de formatos CD, DVD, Blu-ray:
1. Introduction
2. "Native Stepson" – Sonny Landreth
3. "Wonderful Tonight" – Eric Clapton & Andy Fairweather Low
4. "Lay Down Sally" – Eric Clapton & Andy Fairweather Low
5. "Million Miles" – Bonnie Raitt, Keb' Mo' & Alan Darby
6. "Son's Gonna Rise" – Citizen Cope with Gary Clark Jr.
7. "Lait / De Ushuaia A La Quiaca" – Gustavo Santaolalla
8. "I Wanna Be Your Dog" – Doyle Bramhall II with Tedeschi Trucks, Band
9. "That's How Strong My Love Is" – Doyle Bramhall II with Tedeschi Trucks Band
10. "Lift Off" – Tom Misch
11. "Cognac" – Buddy Guy & Jonny Lang
12. "Everything Is Broken" – Sheryl Crow & Bonnie Raitt
13. "Every Day Is A Winding Road" – Sheryl Crow with James Bay
14. "Retrato" – Daniel Santiago & Pedro Martins
15. "B-Side" – Kurt Rosenwinkel with Pedro Martins
16. "Baby, Please Come Home" – Jimmie Vaughan with Bonnie Raitt
17. "How Long" – The Marcus King Band
18. "Goodbye Carolina" – The Marcus King Band
19. "While My Guitar Gently Weeps" – Peter Frampton with Eric Clapton 20. "Space For The Papa" – Jeff Beck
21. "Big Block" – Jeff Beck
22. "Caroline, No" – Jeff Beck
23. "Cut Em Loose – Robert Randolph
24. "Hold Back The River" – James Bay
25. "When We Were On Fire" – James Bay
26. "Mas y Mas" – Los Lobos
27. "Am I Wrong?" – Keb' Mo'
28. "Slow Dancing In A Burning Room" – John Mayer 29. "How Blue Can You Get?" – Tedeschi Trucks Band
30. "Shame" – Tedeschi Trucks Band
31. "Is Your Love Big Enough" – Lianne La Havas
32. "I Say A Little Prayer" – Lianne La Havas
33. "Feed The Babies" – Gary Clark Jr.
34. "I Got My Eyes On You (Locked & Loaded)" – Gary Clark Jr.
35. "Pearl Cadillac" – Gary Clark Jr.
36. "Tonight The Bottle Let Me Down" – Vince Gill with Albert Lee & Jerry Douglas
37. "Tulsa Time" – Vince Gill with Albert Lee, Bradley Walker, Albert Lee & Jerry Douglas 38. "Drifting Too Far From The Shore" – Bradley Walker with Vince Gill, Albert Lee & Jerry
Douglas
39. "Badge" – Eric Clapton
40. "Layla" – Eric Clapton with John Mayer & Doyle Bramhall II Encore Finale
41. "Purple Rain" – Eric Clapton & Ensemble
42. "High Time We Went" – Eric Clapton & Ensemble
End Credits
"Going Going Gone" – Doyle Bramhall II with Tedeschi Trucks Band ERIC CLAPTON'S CROSSROADS GUITAR FESTIVAL 2019
LP Track Listing:
Side A
1. "Native Stepson" – Sonny Landreth
2. "Wonderful Tonight" – Eric Clapton & Andy Fairweather Low
3. "Lay Down Sally" – Eric Clapton & Andy Fairweather Low
4. "Million Miles" – Bonnie Raitt, Keb' Mo' & Alan Darby
Side B
WARNER MUSIC CATALOGUE – Juan Bauluz – email: [email protected] / Tlf: 91745 42 20
1. "Son's Gonna Rise" – Citizen Cope with Gary Clark Jr.
2. "Sideways" – Citizen Cope
3. "Lait / De Ushuaia A La Quiaca" – Gustavo Santaolalla
4. "I Wanna Be Your Dog" – Doyle Bramhall II with Tedeschi Trucks Band
Side C
5. 1. 2.
"That's How Strong My Love Is" – Doyle Bramhall II with Tedeschi Trucks Band "Lift Off" – Tom Misch
"Cognac" – Buddy Guy & Jonny Lang
Side D
1. "Every Day Is A Winding Road" – Sheryl Crow with James Bay
2. "Retrato" – Daniel Santiago & Pedro Martins
3. "B-Side" – Kurt Rosenwinkel with Pedro Martins
Side E
1. "Baby, Please Come Home" – Jimmie Vaughan with Bonnie Raitt
2. "How Long" – The Marcus King Band
3. "Goodbye Carolina" – The Marcus King Band
4. "While My Guitar Gently Weeps" – Peter Frampton with Eric Clapton
Side F
1. "Space For The Papa" – Jeff Beck
2. "Big Block" – Jeff Beck
3. "Caroline, No" – Jeff Beck
4. "Cut Em Loose – Robert Randolph
Side G
1. "Hold Back The River" – James Bay
2. "When We Were On Fire" – James Bay
3. "Mas y Mas" – Los Lobos
Side H
1. "Am I Wrong?" – Keb' Mo'
2. "I Shiver" – Robert Cray
3. "Slow Dancing In A Burning Room" – John Mayer
4. "How Blue Can You Get?" – Tedeschi Trucks Band
Side I
1. "Shame" – Tedeschi Trucks Band
2. "Is Your Love Big Enough" – Lianne La Havas 3. "I Say A Little Prayer" – Lianne La Havas
4. "Feed The Babies" – Gary Clark Jr.
Side J
1. "I Got My Eyes On You (Locked & Loaded)" – Gary Clark Jr.
2. "Pearl Cadillac" – Gary Clark Jr.
3. "Tonight The Bottle Let Me Down" – Vince Gill with Albert Lee& Jerry Douglas
4. "Tulsa Time" – Vince Gill with Albert Lee, Bradley Walker, & Jerry Douglas
Side K
1. "Drifting Too Far From The Shore" – Bradley Walker with Vince Gill, Albert Lee & Jerry Douglas
2. "Badge" – Eric Clapton
3. "Layla" – Eric Clapton with John Mayer
Side L
Encore Finale
1. "Purple Rain" – Eric Clapton & Ensemble
2. "High Time We Went" – Eric Clapton & Ensemble