EL PRIMER BOWIE, A LA VENTA OTRA VEZ EN VINILO
Un verdadero placer ver de nuevo los primeros álbumes de David Bowie reeditados en vinilo. De "David Bowie" ("Man Of Words Man Of Music" en USA, reeditado como "Space Oddity") a "Pin Ups". Todos menos su debut en Deram en 1967, que ya fue reeditado en doble vinilo y CD hace unos años.
Los álbumes que sacó entre 1969 y 1973 con las carpetas originales y los encartes interiores correspondientes. Todos en vinilo de 180 gramos. Estos son los discos:
"David Bowie" (1969), "The Man Who Sold The World" (1979), "Hunky Dory" (1971), "The Rise and Fall of Ziggy Stardust and the Spiders From Mars" (1972), "Aladdin Sane" (1973) y "PinUps" (1973).
Además, y por primera vez en vinilo, "Bowie at The Beeb", un resumen de sus mejores sesiones para la BBC entre 1968 y 1972. Anteriormente sólo había salido como CD doble, ahora se convierte en una flamante caja de 4 vinilos con un libreto de 20 páginas con fotos a color.
Como novedad se incluye 'Oh! You Pretty Things' de un programa de Bob Harris emitido en septiembre de 1971.
Y también se anuncia para el 3 de junio la reedición de "A Reality Tour", vía Friday Music, en una box set de 3 Lps de 180 gramos de vinilo azul translúcido. Un disco que fue grabado en 2003 en Dublin, como parte de la gira final de Bowie.
Este fin de semana se ha sabido que Bowie no quiso que los responsables de la película "Trainspotting" incluyesen en la película una de sus canciones, teniendo que conformarse con una canción producida por él, "Lust For Life" del disco de título homónimo de Iggy Pop.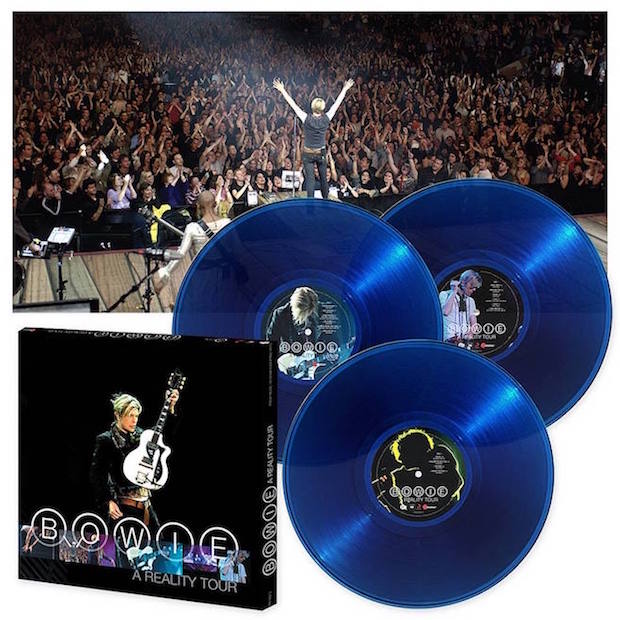 "Bowie at the Beeb" track list:
  1. In The Heat Of The Morning (2000 Remastered Version) (David Bowie & The Tony Visconti Orchestra)
  2. London Bye, Ta-Ta (2000 Remastered Version) (David Bowie & The Tony Visconti Orchestra)
  3. Karma Man (2000 Remastered Version) (David Bowie & The Tony Visconti Orchestra)
  4. Silly Boy Blue (2000 Remastered Version) (David Bowie & The Tony Visconti Orchestra)
  5. Let Me Sleep Beside You (2000 Remastered Version)
  6. Janine (2000 Remastered Version)
  7. Amsterdam (2000 Remastered Version) (David Bowie & The Tony Visconti Trio)
  8. God Knows I'm Good (2000 Remastered Version) (David Bowie & The Tony Visconti Trio)
  9. The Width Of A Circle (2000 Remastered Version) (David Bowie & The Tony Visconti Trio)
  10. Unwashed And Somewhat Slightly Dazed (2000 Remastered Version) (David Bowie & The Tony Visconti Trio)
  1. Cygnet Committee (2000 Remastered Version) (David Bowie & The Tony Visconti Trio)
  2. Memory Of A Free Festival (2000 Remastered Version) (David Bowie & The Tony Visconti Trio)
  3. Wild Eyed Boy From Freecloud (2000 Remastered Version) (David Bowie & The Hype)
  4. The Supermen (2016 Remastered Version) (David Bowie & The Hype)
  5. Bombers (2000 Remastered Version) (David Bowie & Friends)
  6. Looking For A Friend (2000 Remastered Version) (David Bowie & Friends)
  7. Almost Grown (2000 Remastered Version) (David Bowie & Friends)
  8. Kooks (2000 Remastered Version) (David Bowie & Friends)
  9. It Ain't Easy (2000 Remastered Version) (David Bowie & Friends)
  1. The Supermen (with Mick Ronson) [2000 Remastered Version]
  2. Oh! You Pretty Things (with Mick Ronson) [2000 Remastered Version]
  3. Eight Line Poem (2000 Remastered Version)
  4. Hang On To Yourself (2000 Remastered Version) (David Bowie & The Spiders From Mars)
  5. Ziggy Stardust (2000 Remastered Version) (David Bowie & The Spiders From Mars)
  6. Queen Bitch (2000 Remastered Version) (David Bowie & The Spiders From Mars)
  7. Waiting For The Man (2000 Remastered Version) (David Bowie & The Spiders From Mars)
  8. Five Years (2000 Remastered Version) (David Bowie & The Spiders From Mars)
  9. White Light/White Heat (2000 Remastered Version) (David Bowie & The Spiders From Mars)
  10. Moonage Daydream (2000 Remastered Version) (David Bowie & The Spiders From Mars)
  1. Hang On To Yourself (2000 Remastered Version) (David Bowie & The Spiders From Mars)
  2. Suffragette City (2000 Remastered Version) (David Bowie & The Spiders From Mars)
  3. Ziggy Stardust (2000 Remastered Version) (David Bowie & The Spiders From Mars)
  4. Starman (2000 Remastered Version) (David Bowie & The Spiders From Mars)
  5. Space Oddity (2000 Remastered Version) (David Bowie & The Spiders From Mars)
  6. Changes (2000 Remastered Version) (David Bowie & The Spiders From Mars)
  7. Oh! You Pretty Things (2000 Remastered Version) (David Bowie & The Spiders From Mars)
  8. Andy Warhol (2000 Remastered Version) (David Bowie & The Spiders From Mars)
  9. Lady Stardust (2000 Remastered Version) (David Bowie & The Spiders From Mars)
  10. Rock 'N' Roll Suicide (2000 Remastered Version) (David Bowie & The Spiders From Mars)