LO MÁGICO ES QUE VÍVI AQUELLA NOCHE MÁGICA EN EL ROYAL ALBERT HALL. GRACIAS A ERIC CLAPTON. SIN EL NO HUBIESE SIDO UNA NOCHE HISTORICA.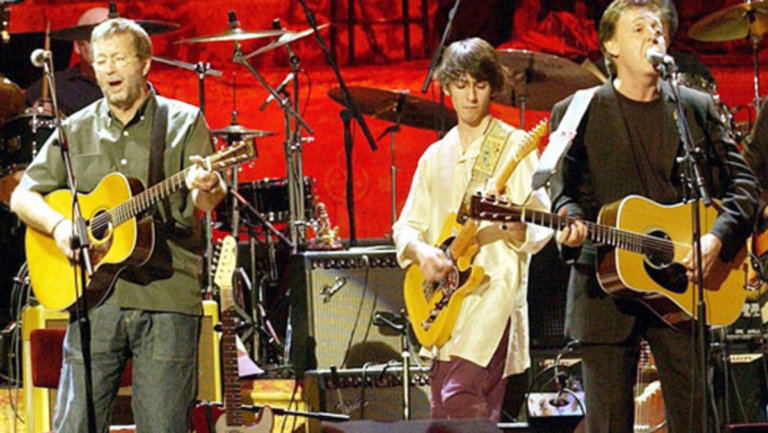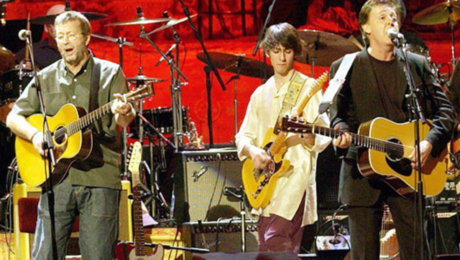 El 29 de noviembre de 2002, un año después de la muerte de George Harrison, Olivia Harrison y su amigo de toda la vida, Eric Clapton, organizaron un concierto tributo en su honor. Tuvo lugar en el Royal Albert Hall de Londres, una noche llena de grandes momentos con las canciones de George, y la música que él amaba tanto, interpretada por un grupo que incluía a Clapton, Joe Brown, Dhani Harrison, Jools Hollans, Jeff Lynne, Paul McCartney, Monty Python, Tom Petty, Billy Preston, Ravi y Anoushka Shankar, Ringo Starr y muchos más.
Concert For George [Blu-ray]
Record Label: WEA
Catalog #: 349795669
Country of Release: NLD
Year of Release: 2011
Notas: Tribute conciertos, Recorded novemb 29th
Dirigido por
David Leland, CONCERT FOR GEORGE
capturaba impresionantes interpretaciones de algunos de los temas más importantes del siglo 20, incluyendo
"While My Guitar Gently Weeps" (
con Clapton a la guitarra, McCartney al piano y Starr en la batería),
"Taxman
" (interpretada por Tom Petty and the Heartbreakers) o
"The Inner Light
" (interpretada por Jeff Lynne y Anoushka Shankar). Lynne, amigo y colaborador de muchos años de Harrison, produjo el audio del concierto, mientras que Clapton supervisó todo lo relacionado con la dirección musical.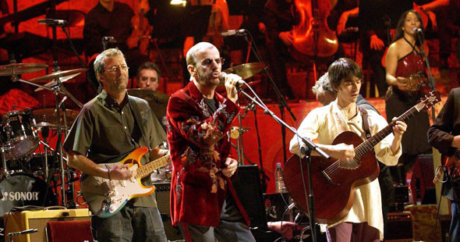 Coincidiendo con el 75 cumpleaños de George Harrison , el 25 febrero, nuevamente, CONCERT FOR GEORGE estará disponible por primera vez en vinilo como parte de una caja Deluxe de edición limitada con 4 LP, así como en una caja especial Deluxe de edición limitada a 1000 unidades en todo el mundo que incluirá 10 discos.
Dice Olivia Harrison:
"Siempre celebraremos el cumpleaños de George y este año sacamos el Concert for George con una edición muy especial en memoria de un hombre maravilloso".
La caja de 4 LP incluye la grabación sonora completa de CONCERT FOR GEORGE, en vinilo de 180 gramos, incluyendo un diseño especial.  Es la primera vez que todas las canciones de la actuación están disponibles en una configuración de audio.
CD TRACK LISTING:
Disc 1:
1. Sarve Shaam – Traditional Prayer
2. Your Eyes (Sitar Solo) – Anoushka Shankar
3. The Inner Light – Jeff Lynne & Anoushka Shankar
4. Arpan – Conducted by Anoushka Shankar
Disc 2:
1. I Want To Tell You – Jeff Lynne
2. If I Needed Someone – Eric Clapton
3. Old Brown Shoe – Gary Brooker
4. Give Me love (Give Me Peace On Earth) – Jeff Lynne
5. Beware Of Darkness – Eric Clapton
6. Here Comes The Sun – Joe Brown
7. That's The Way It Goes – Joe Brown
8. Taxman – Tom Petty and the Heartbreakers
9. I Need You – Tom Petty and the Heartbreakers
10. Handle With Care – Tom Petty and the Heartbreakers with Jeff Lynne & Dhani Harrison
11. Isn't It A Pity – Billy Preston
12. Photograph – Ringo Starr
13. Honey Don't – Ringo Starr
14. For You Blue – Paul McCartney
15. Something – Paul McCartney & Eric Clapton
16. All Things Must Pass – Paul McCartney
17. While My Guitar Gently Weeps – Paul McCartney & Eric Clapton
18. My Sweet Lord – Billy Preston
19. Wah Wah – Eric Clapton and Band
20. I'll See You In My Dreams – Joe Brown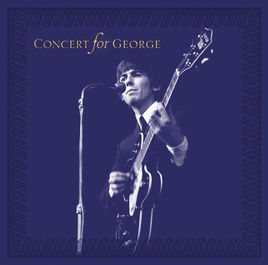 DVD & BLU-RAY TRACK LISTING
Disc 1 (Complete Concert)
Your Eyes – Anoushka Shankar
The Inner Light – Jeff Lynne & Anoushka Shankar
Arpan – Conducted by Anoushka Shankar
Sit On My Face – Monty Python
The Lumberjack Song – Monty Python with Tom Hanks
I Want To Tell You – Jeff Lynne
If I Needed Someone – Eric Clapton
Old Brown Shoe – Gary Brooker
Give Me Love – Jeff Lynne
Beware Of Darkness – Eric Clapton
Here Comes The Sun – Joe Brown
That's The Way It Goes – Joe Brown
Horse To The Water – Jools Holland & Sam Brown
Taxman – Tom Petty and the Heartbreakers
I Need You – Tom Petty and the Heartbreakers
Handle With Care – Tom Petty and the Heartbreakers with Jeff Lynne & Dhani Harrison
Isn't It A Pity – Billy Preston
Photograph – Ringo Starr
Honey Don't – Ringo Starr
For You Blue – Paul McCartney
Something – Paul McCartney & Eric Clapton
All Things Must Pass – Paul McCartney
While My Guitar Gently Weeps – Paul McCartney & Eric Clapton
My Sweet Lord – Billy Preston
Wah Wah – Eric Clapton & Band
I'll See You In My Dreams – Joe Brown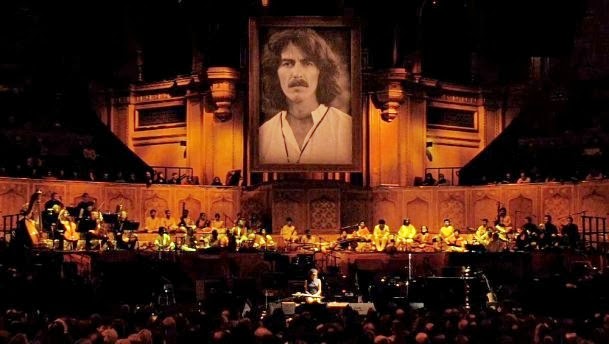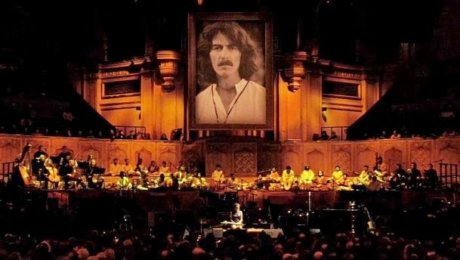 Disc 2 (Theatrical Version)
I Want To Tell You – Jeff Lynne
If I Needed Someone – Eric Clapton
Old Brown Shoe – Gary Brooker
Give Me Love (Give Me Peace On Earth)- Jeff Lynne
Beware Of Darkness – Eric Clapton
Here Comes The Sun – Joe Brown
That's The Way It Goes – Joe Brown
Taxman – Tom Petty and the Heartbreakers
I Need You – Tom Petty and the Heartbreakers
Handle With Care – Tom Petty and the Heartbreakers with Jeff Lynne & Dhani Harrison
Isn't It A Pity – Billy Preston
Photograph – Ringo Starr
Honey Don't – Ringo Starr
For You Blue – Paul McCartney
Something – Paul McCartney & Eric Clapton
All Things Must Pass – Paul McCartney
While My Guitar Gently Weeps – Paul McCartney & Eric Clapton
My Sweet Lord – Billy Preston
Wah Wah – Eric Clapton & Band
I'll See You In My Dreams – Joe Brown
Plus interviews, rehearsals and behind the scenes footage, including:
Ravi's orchestra rehearsals
Monty Python backstage
George's band rehearsals
Interviews with musicians
Photo gallery
"Drummers" featurette (on the Blu-ray only, not included on the DVD)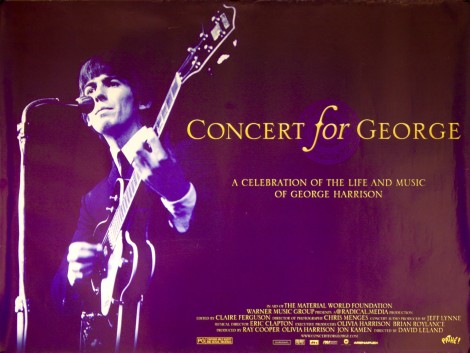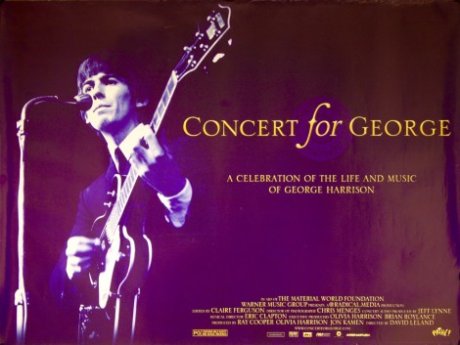 4-LP VINYL TRACK LISTING
Side 1
Sarve Shaam – Traditional Prayer
Your Eyes – Anoushka Shankar
The Inner Light – Jeff Lynne & Anoushka Shankar
Side 2
Arpan – Conducted by Anoushka Shankar
Side 3
The Lumberjack Song – Monty Python with Tom Hanks
Sit On My Face – Monty Python
I Want To Tell You – Jeff Lynne
If I Needed Someone – Eric Clapton
Old Brown Shoe – Gary Brooker
Give Me Love – Jeff Lynne
Side 4
Beware Of Darkness – Eric Clapton
Here Comes The Sun – Joe Brown
That's The Way It Goes – Joe Brown
Horse To The Water – Jools Holland & Sam Brown
Taxman – Tom Petty and the Heartbreakers
Side 5
I Need You – Tom Petty and the Heartbreakers
Handle With Care – Tom Petty and the Heartbreakers with Jeff Lynne & Dhani Harrison
Isn't It A Pity – Billy Preston
Photograph – Ringo Starr
Side 6
Honey Don't – Ringo Starr
For You Blue – Paul McCartney
Something – Paul McCartney & Eric Clapton
All Things Must Pass – Paul McCartney
While My Guitar Gently Weeps – Paul McCartney & Eric Clapton
Side 7
My Sweet Lord – Billy Preston
Wah Wah – Eric Clapton & Band
I'll See You In My Dreams – Joe Brown
Side 8
Etched vinyl with mandala design
DIGITAL TRACK LISTING
Sarve Shaam – Traditional Prayer
Your Eyes (Sitar Solo) – Anoushka Shankar
The Inner Light – Jeff Lynne & Anoushka Shankar
Arpan – Conducted by Anoushka Shankar
The Lumberjack Song – Monty Python with Tom Hanks
Sit On My Face – Monty Python
I Want To Tell You – Jeff Lynne
If I Needed Someone – Eric Clapton
Old Brown Shoe – Gary Brooker
Give Me Love (Give Me Peace On Earth) – Jeff Lynne
Beware Of Darkness – Eric Clapton
Here Comes The Sun – Joe Brown
That's The Way It Goes – Joe Brown
Horse To The Water – Jools Holland & Sam Brown
Taxman – Tom Petty and the Heartbreakers
I Need You – Tom Petty and the Heartbreakers
Handle With Care – Tom Petty and the Heartbreakers with Jeff Lynne & Dhani Harrison
Isn't It A Pity – Billy Preston
Photograph – Ringo Starr
Honey Don't – Ringo Starr
For You Blue – Paul McCartney
Something – Paul McCartney & Eric Clapton
All Things Must Pass – Paul McCartney
While My Guitar Gently Weeps – Paul McCartney & Eric Clapton
My Sweet Lord – Billy Preston
Wah Wah – Eric Clapton & Band
I'll See You In My Dreams – Joe Brown