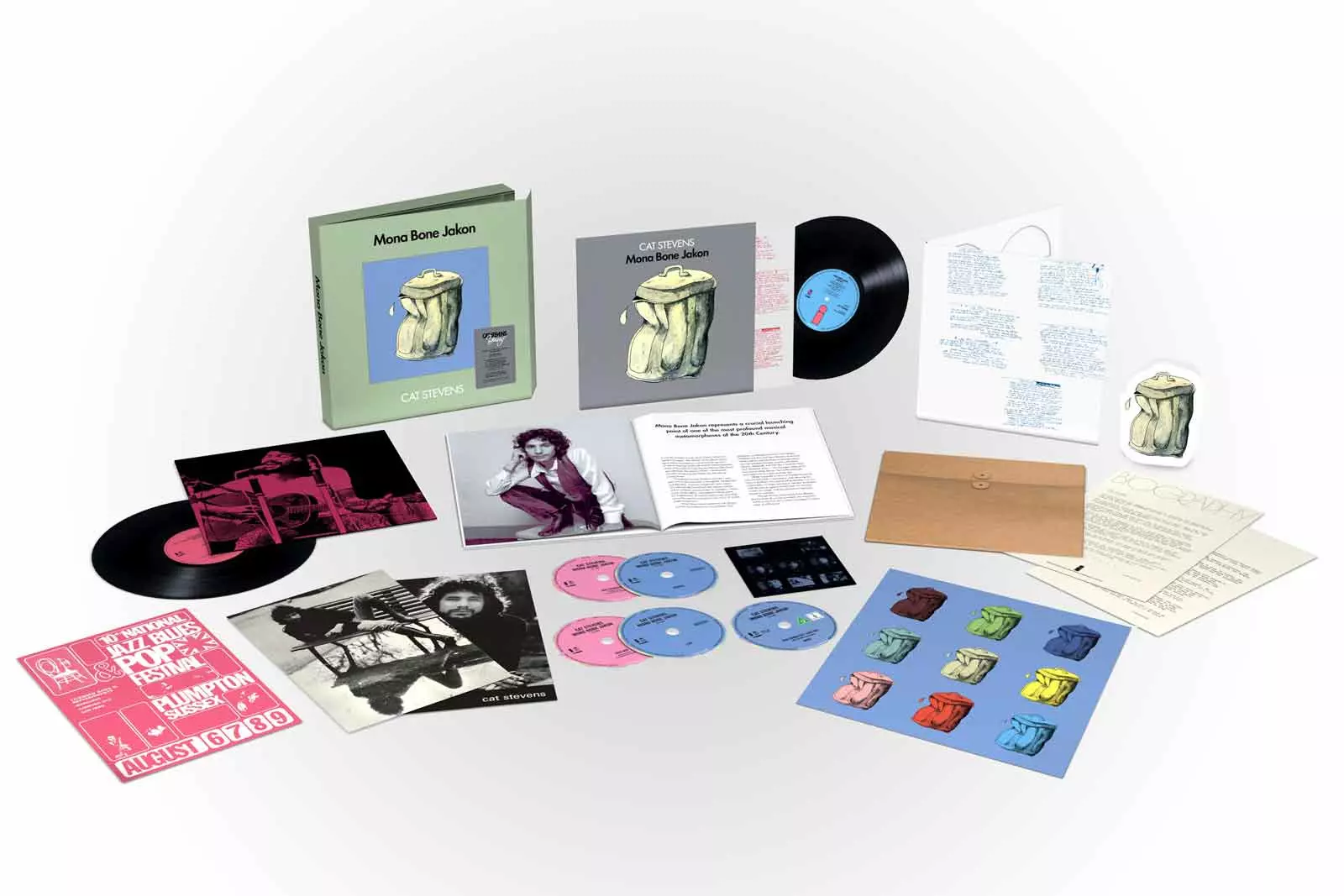 Cat Stevens anuncia la edición para el 4 de diciembre de dos versiones expandidas de sus clásicos "Mona Bone Jakon" y "Tea for the Tillerman" que ahora se convierten en flamantes cajas por su 50 aniversario.
Ambos álbumes se lanzarán en ediciones de coleccionista Super Deluxe con nueva remasterización incluyendo toda clase de demos y tomas en directo. Ambos sets incluyen también sendos Blu-rays con videos y apariciones en televisión de la época (ver abajo tracklists completos).
Tras sus iniciales éxitos en single para Deram, se sabe que Cat Stevens compuso unas 50 canciones entre 1968-69 después de tener que ser hospitalizado por tuberculosis. Creó el cuerpo principal de lo que iban a ser sus elepés de primera mitad de los 70, su época dorada, sobre todo de estos dos que ahora se reeditan.
Cuando tocó unas cuantas para Chris Blackwell de Island para fichar por el sello, el introductor del ska y reggae en UK se quedó sorprendido, una tras otra todas eran buenas. A partir de ahí, Cat grabó todos sus discos para Island siendo su principal fuente de ingresos.
"Mona Bone Jakon" estaba cuajado de canciones inspiradas, arregladas muy sencillamente. Blackwell llegó a decir que lo que escuchó en aquella audición ya era publicable en sí mismo, sólo con una guitarra y voz.
El álbum no fue un éxito, pero le dio a Stevens otro éxito en single con "Lady D'Arbanville".
Pero fue "Tea for the Tillerman", estrenado siete meses después de aquel 1970, lo que selló el nuevo estrellato de Cat como cantautor "reflexivo".
El álbum alcanzó el Top 10 en Estados Unidos e incluyó "Wild World", su primer gran éxito en los Estados Unidos. Fue también el LP de la inolvidable "Father and Son".
Este álbum, generalmente reconocido como el mejor trabajo de Stevens, fue reinventado el pasado mes de septiembre por el artista, bajo el sobrenombre de Yusuf / Cat Stevens, como "Tea for the Tillerman²". 
Además de las ediciones de coleccionista Super Deluxe de varios discos, ambos álbumes también van a estar disponibles en versiones remasterizadas de vinilo, doble CDs y un solo CD.
Como aperitivo de las nuevas ediciones se ha estrenado la demo de "I Want Some Sun" y una versión descartada de "Can This Be Love?".
Cat Stevens, 'Mona Bone Jakon' Box Set Track Listing
CD1: Original Album (2020 Remaster)
Lady D'Arbanville
Maybe You're Right
Pop Star
I Think I See The Light
Trouble
Mona Bone Jakon
I Wish, I Wish
Katmandu
Time
Fill My Eyes
Lilywhite
CD2:Original Album (2020 Mix)
Lady D'Arbanville
Maybe You're Right
Pop Star
I Think I See The Light
Trouble
Mona Bone Jakon
I Wish, I Wish
Katmandu
Time
Fill My Eyes
Lilywhite
CD3: Demos
Maybe You're Right (Studio Demo)
I Think I See The Light (Studio Demo)
Trouble (Studio Demo)
Mona Bone Jakon (Home Demo)
I Wish I Wish (Studio Demo)
Katmandu (Studio Demo)
Time (Studio Demo)
Fill My Eyes (Studio Demo)
I Want Some Sun (Studio Demo)
CD4: Live
Interview (Live At The BBC (16/06/70)
Lady D'Arbanville (Live At The BBC (16/06/70)
Maybe You're Right (Cat Stevens In Concert, 27/11/1971)
Trouble (Live At The BBC (16/06/70)
Katmandu (Live At The BBC (16/06/70)
Changes IV (Live at Plumpton Jazz & Blues Festival, 08/08/70)
Time / Fill My Eyes (Live at Plumpton Jazz & Blues Festival, 08/08/70)
Where Do The Children Play? (Live at Plumpton Jazz & Blues Festival, 08/08/70)
Lady D'Arbanville (Live at Plumpton Jazz & Blues Festival, 08/08/70)
Maybe You're Right (Live at Plumpton Jazz & Blues Festival, 08/08/70)
Father and Son (Live at Plumpton Jazz & Blues Festival, 08/08/70)
Lady D'Arbanville (BEATCLUB (GERMANY) 25.08.70)
Lady D'Arbanville (TV CONCERT (FRANCE) 01.11.1970)
Maybe You're Right (TV CONCERT (FRANCE) 01.11.1970)
Katmandu (TV CONCERT (FRANCE) 01.11.1970)
Interview (TV CONCERT (FRANCE) 01.11.1970)
Lady D'Arbanville (DEUX SUR LA 2 (FRANCE), 12.10.70)
Maybe You're Right (POP DEUX (FRANCE) 27.02.1971)
Blu-ray: Music Video & Live Videos + High Res Audio of Original Album (2020 Mix)
Lady D'Arbanville (Official Video)
Lady D'Arbanville (BEATCLUB (GERMANY) 25.08.70)
Lady D'Arbanville (TV CONCERT (FRANCE) 01.11.1970)
Maybe You're Right (TV CONCERT (FRANCE) 01.11.1970)
Katmandu (TV CONCERT (FRANCE) 01.11.1970)
Interview (TV CONCERT (FRANCE) 01.11.1970)
Lady D'Arbanville (DEUX SUR LA 2 (FRANCE), 12.10.70)
Maybe You're Right (POP DEUX (FRANCE) 27.02.1971)
Maybe You're Right (Cat Stevens In Concert, 27/11/1971)
Cat Stevens, 'Tea for the Tillerman' Box Set Track Listing:
CD1: Original Album (2020 Remaster)
Where Do The Children Play?
Hard Headed Woman
Wild World
Sad Lisa
Miles From Nowhere
But I Might Die Tonight
Longer Boats
Into White
On The Road To Find Out
Father and Son
Tea for the Tillerman
CD2: Original Album (2020 Mix)
Where Do The Children Play?
Hard Headed Woman
Wild World
Sad Lisa
Miles From Nowhere
But I Might Die Tonight
Longer Boats
Into White
On The Road To Find Out
Father and Son
Tea for the Tillerman
CD3: Tea for the Tillerman²
Where Do The Children Play?
Hard Headed Woman
Wild World
Sad Lisa
Miles From Nowhere
But I Might Die Tonight
Longer Boats
Into White
On The Road To Find Out
Father and Son
Tea for the Tillerman
CD4: Demos / Outtakes / Alternate Versions
Wild World (Demo)
Miles From Nowhere (Studio Demo)
But I Might Die Tonight (Deep End Movie Version)
Can This Be Love?
Honey Man (duet with Elton John)
It's So Good
If You Want To Sing Out, Sing Out (Demo)
Don't Be Shy (Demo)
I've Got A Thing About Seeing My Grandson Grow Old
Love Lives In The Sky
The Joke
If You Want To Sing Out, Sing Out
Don't Be Shy
CD5: Live
Where Do The Children Play? (Live at the Troubadour)
Hard Headed Woman (Live at the Troubadour)
Wild World (Live at the Troubadour)
Longer Boats (Live at the Troubadour)
Into White (Live at the Troubadour)
On The Road To Find Out (Live at the Troubadour)
Father and Son (Live at the Troubadour)
Where Do The Children Play? (Live At KCET Studios, Los Angeles, USA (08/06/71)
Wild World (Live At KCET Studios, Los Angeles, USA (08/06/71)
Hard Headed Woman (Live At KCET Studios, Los Angeles, USA (08/06/71)
Miles From Nowhere (Live At KCET Studios, Los Angeles, USA (08/06/71)
Longer Boats (Live At KCET Studios, Los Angeles, USA (08/06/71)
On The Road To Find Out (Live At KCET Studios, Los Angeles, USA (08/06/71)
Father and Son (Live At KCET Studios, Los Angeles, USA (08/06/71)
Wild World (Cat Stevens In Concert, 27/11/1971)
Into White (Cat Stevens In Concert, 27/11/1971)
Tea for the Tillerman (Cat Stevens In Concert, 27/11/1971)
Wild World (Beat Club, 25.08.70)
Hard Headed Woman (Beat Club, 25.08.70)
Wild World (Gala du Midem, France 24.01.71)
Wild World (Deux Sur La 2, France, 12.10.70)
Moonshadow (Live At Fillmore East (1970)
Father and Son (Live At Fillmore East (1970)
Changes IV (Live At Fillmore East (1970)
Peace Train (Live At Fillmore East (1970)
Blu-ray: Music Video & Live Videos + High Res Audio of Original Album (2020 Mix)
Father and Son - Official Video
Where Do The Children Play? (Live At KCET Studios, Los Angeles, USA (08/06/71)
Wild World (Live At KCET Studios, Los Angeles, USA (08/06/71)
Hard Headed Woman (Live At KCET Studios, Los Angeles, USA (08/06/71)
Miles From Nowhere (Live At KCET Studios, Los Angeles, USA (08/06/71)
Longer Boats (Live At KCET Studios, Los Angeles, USA (08/06/71)
On The Road To Find Out (Live At KCET Studios, Los Angeles, USA (08/06/71)
Father and Son (Live At KCET Studios, Los Angeles, USA (08/06/71)
Wild World (Cat Stevens In Concert, 27/11/1971)
Into White (Cat Stevens In Concert, 27/11/1971)
Father and Son (Cat Stevens In Concert, 27/11/1971)
Wild World (Beat Club, 25.08.70)
Hard Headed Woman (Beat Club, 25.08.70)
Wild World (Gala du Midem, France 24.01.71)
Wild World (Deux Sur La 2, France, 12.10.70)
Wild World (TV Concert, France, 01.11.1970)