Escucha The Beatles

en Amazon Music Unlimited (ad)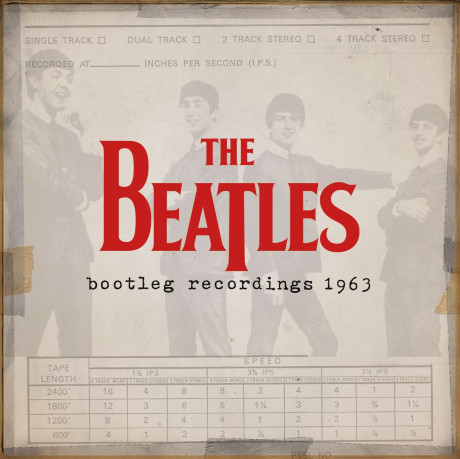 Con la segunda parte de "Live at the BBC" todavía fresca en los estantes de las tiendas, se publicó  "The Beatles Bootleg Recordings 1963", una explotación  del legado de uno de los grupos más importantes, si no el que más, de la historia de la música pop. ¿Por qué tanto nuevo material del grupo en tan poco tiempo?
Muchos están especulando con la posibilidad de que estas últimas rarezas de los Beatles hayan sido publicadas para restablecer los copyrights de las grabaciones de los Beatles. Las nuevas leyes de derechos de autor de la Unión Europea estipulan que los Beatles y su sello discográfico pueden poseer el material durante un periodo de hasta 70 años si este es oficialmente publicado.
Se trata de 59 canciones de primera época del grupo, del año en que publicaron los excelentes "Please Please Me" y "With the Beatles". Las cosas por entonces iban así, los Beatles publicaron un par de LPs al año en 1963, 1964 y 1965, además de un buen puñado de brillantes singles y extended plays.
Canciones frescas como "I Saw Her Standing There", "There´s a Place" o "I Want To Hold Your Hand", en tomas demo de studio y en directo en la BBC, que nos retrotraen a sus orígenes de rock and roll y rhythm and blues. Una pasada, al margen de otro tipo de consideraciones.
Destacan las dos últimas canciones "I´m In Love" y "Bad To Me" (abajo vídeo), dos de aquellas composiciones que Lennon y McCartney cedieron a otros grupos al ir totalmente sobrados de ideas y de repertorio.
Otros artistas  adoptaron  un enfoque similar a los Beatles a remolque de las nuevas leyes europeas de derechos de autor (Beach Boys, Motown, Bob Dylan). Han publicado a toda prisa grabaciones raras ,  sin apenas publicidad.
Este es tracklist del "Bootleg 1963" de los Beatles:
1. There's A Place – Takes 5, 6 (2:19)
2. There's A Place – Take 8 (1:58)
3. There's A Place – Take 9 (2:04)
4. Do You Want To Known A Secret – Track 2, Take 7 (2:17)
5. A Taste Of Honey – Track 2, Take 6 (2:12)
6. I Saw Her Standing There – Take 2 (3:07)
7. Misery – Take 1 (1:54)
8. Misery – Take 7 (1:56)
9. From Me To You – Take 1 & 2 (3:24)
10. From Me To You – Take 5 (2:17)
11. Thank You Girl – Take 1 (2:09)
12. Thank You Girl – Take 5 (2:04)
13. One After 909 – Take 1 & 2  (4:29)
14. Hold Me Tight – Take 21 (2:42)
15. Money (That's What I Want) – RM 7 Undubbed (2:48)
16. Some Other Guy – Live At BBC For "Saturday Club" / 26th January, 1963 (2:02)
17. Love Me Do – Live At BBC For "Saturday Club" / 26th January, 1963 (2:31)
18. Too Much Monkey Business – Live At BBC For "Saturday Club" / 26th January, 1963 (1:50)
19. I Saw Her Standing There – Live At BBC For "Saturday Club" / 16th March, 1963 (2:38)
20. Do You Want To Know A Secret – Live At BBC For "Saturday Club" / 26th January, 1963  (1:50)
21. From Me To You – Live At BBC For "Saturday Club" / 26th January, 1963 (1:54)
22. I Got To Find My Baby – Live At BBC For "Saturday Club" / 26th January, 1963 (1:59)
23. Roll Over Beethoven – Live At BBC For "Saturday Club" / 29th June, 1963 (2:29)
24. A Taste Of Honey – Live At BBC For "Easy Beat" / 23rd June, 1963 (2:01)
25. Love Me Do – Live At BBC For "Easy Beat" / 20th October, 1963 (2:29)
26. Please Please Me – Live At BBC For "Easy Beat" / 20th October, 1963 (2:08)
27. She Loves You – Live At BBC For "Easy Beat" / 20th October, 1963 (2:29)
28. I Want To Hold Your Hand – Live At BBC For "Saturday Club" / 21st December, 1963 (2:19)
29. Till There Was You – Live At BBC For "Saturday Club" / 21st December, 1963 (2:16)
30. Roll Over Beethoveen – Live At BBC For "Saturday Club" / 21st December, 1963 (2:16)
31. You Really Got A Hold On Me – Live At BBC For "Pop Go The Beatles" / 4th June, 1963 (2:54)
32. The Hippy Hippy Shake – Live At BBC For "Pop Go The Beatles" / 4th June, 1963 (1:43)
33. Till There Was You – Live At BBC For "Pop Go The Beatles" /11th June, 1963 (2:14)
34. A Shot Of Rhythm And Blues – Live At BBC For "Pop Go The Beatles" / 18th June, 1963 (2:06)
35. A Taste Of Honey – Live At BBC For "Pop Go The Beatles" / 18th June, 1963 (1:56)
36. Money (That's What I Want) – Live At BBC For "Pop Go The Beatles" / 18th June, 1963 (2:41)
37. Anna – Live At BBC For "Pop Go The Beatles" / 25th June, 1963 (3:02)
38. Love Me Do – Live At BBC For "Pop Go The Beatles" / 10th September, 1963 (2:29)
39. She Loves You – Live At BBC For "Pop Go The Beatles" / 24th September, 1963 (2:16)
40. I'll Get You – Live At BBC For "Pop Go The Beatles" / 10th September, 1963 (2:05)
41. A Taste Of Honey – Live At BBC For "Pop Go The Beatles" / 10th September, 1963 (2:00)
42. Boys – Live At BBC For "Pop Go The Beatles" / 17th September, 1963 (2:12)
43. Chains – Live At BBC For "Pop Go The Beatles" / 17th September, 1963 (2:22)
44. You Really Got A Hold On Me – Live At BBC For "Pop Go The Beatles" / 17th September, 1963 (2:57)
45. I Saw Her Standing There – Live At BBC For "Pop Go The Beatles" / 24th September, 1963 (2:41)
46. She Loves You – Live At BBC For "Pop Go The Beatles" / 10th September, 1963 (2:15)
47. Twist And Shout – Live At BBC For "Pop Go The Beatles" / 24th September, 1963 (2:36)
48. Do You Want To Know A Secret – Live At BBC For "Here We Go" / 12th March, 1963 (1:55)
49. Please Please Me – Live At BBC For "Here We Go" / 12th March, 1963 (1:57)
50. Long Tall Sally – Live At BBC For "Side By Side" / 13th May, 1963 (1:49)
51. Chains – Live At BBC For "Side By Side" / 13th May, 1963 (2:23)
52. Boys – Live At BBC For "Side By Side" / 13th May, 1963 (1:53)
53. A Taste Of Honey – Live At BBC For "Side By Side" / 13th May, 1963 (2:04)
54. Roll Over Beethoven – Live At BBC For "From Us To You" / 26th December, 1963 (2:17)
55. All My Loving – Live At BBC For "From Us To You" / 26th December, 1963 (2:06)
56. She Loves You – Live At BBC For "From Us To You" / 26th December, 1963 (2:21)
57. Till There Was You – Live At BBC For "From Us To You" / 26th December, 1963 (2:12)
58. Bad To Me – Demo (1:29)
59. I'm In Love – Demo (1:32)
[youtube id=»sSaU-yD9w8A» width=»630″ height=»350″]